100 Best Free Knitting Patterns of 2021
Check out the top knitting patterns of 2021. From knit baby patterns to hats and ponchos, we've rounded up the best free knitting patterns of the year.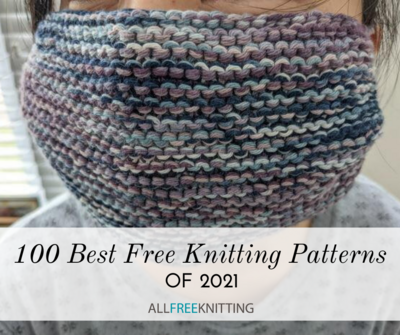 2021 has been one wild ride, hasn't it, knitters? It feels like every year goes by faster, and every year is more eventful than the last. I'm lucky to constantly be getting new and amazing knitting patterns from incredibly companies, designers, and bloggers to share with you guys, and your favorites  this year were no-brainers!

We at AllFreeKnitting did the math and found all of the knitting patterns you loved in 2021, from baby patterns to ponchos to everything in between. While many of your top patterns this year were simple and minimalistic, others were lovely and intricate. I feel so blessed to be a part of the knitting community, especially around this time of year when the snow is falling and everyone's in a knitting frenzy. We're really like a family!

Check out the categories below to see if your personal faves made our top patterns of 2021, and if they didn't, be sure to leave a comment with some of your favorite knitting patterns to show them some love! You might even introduce someone to his or her new favorite, too.

If you love these, check out the Freebies Archive of our digital magazine!
Note: This project is from I Like Knitting digital magazine. Non-members can access 3 free patterns every month. Subscribe to the I Like Knitting Gold Club for unlimited access to their entire pattern archive, featuring hundreds of exclusive patterns.
Table of Contents
Baby Knitting Patterns
You all really love knitting for babies! We don't blame you; it's all the fun of knitting for yourself, but you get to give a gift to a beloved little one, and it's much faster to knit, to boot! Whether you've welcomed a new baby into your life recently or you love knitting for charity, you're going to enjoy these baby patterns.
Knit Hat Patterns
In the winter, there's never a hotter topic than knit hats. They can be knit in so many ways that you could literally knit a new hat every week of your life and never knit the same kind twice. There are hats out there with double pom-poms, animal ears, and intricate cables, but your favorites this year were overall a little more understated. Check them out!
Knit Cardigans
Those of you who have tackled a knit cardigan before know that it's an enormous undertaking, but nothing feels better than bragging to your friends about how your newest top is handmade! These cardigans have earned their top spot on this list for a reason: they're unique, yet versatile, and knitters love them.
Knit Sweaters
Many people begin knitting with the goal of one day finishing a sweater. The best part about making your own is that you can make the sweater uniquely yours by altering the fit or design to your liking, so you just know that if you knit it right, you're going to love your knit top more than any that you bought from a department store.
Knit Blankets and Throws
Blankets are one of those great kinds of knitting patterns for long, lazy sessions. There's no doubt that finishing up a blanket usually takes a ton of time and patience, but so often they come with easy-to-memorize repeats so you can mindlessly knit in front of the television or while listening to an audiobook. These are some of the best projects for long-term commitments that won't drive you insane.
Knit Shawl Patterns

Shawls are a great way to show off your knitting chops. While some may consider them a bit old-fashioned, bloggers and designers have done an amazing job in the past few years creating new, wearable shawl patterns that still pay homage to the classic layering pieces that your grandma knew and loved. While you typically think of shawls as being great for some added coverage in the warmer months, there are some great winter shawl patterns out there, too.
Knit Poncho Patterns
Ponchos have really blown up over the past decade or so. It's not hard to see why: not only is their full-coverage wonderfully cozy for winter, but they add a certain elegance to outfits that feels appropriate at any occasion. As a bonus, they'll help hide if you ate one too many Christmas cookies over the holidays. Check out some of your favorites from 2018!
More Free Knitting Patterns
The fun doesn't stop there! Maybe sweaters, scarves, and hats are the most popular kinds of knitting patterns, but sometimes you guys surprise us with your unique favorites. These accessories all made your faves this year, but spoiler alert: it also features an adorable little dog sweater!
What was your favorite knitting pattern of 2021? Leave a comment below!
Your Recently Viewed Projects