35 Free Knitting Patterns for 12-18 Months of Age
These free modern baby knitting patterns will help you and your child navigate that awkward age between baby-dom and toddler-dom in style.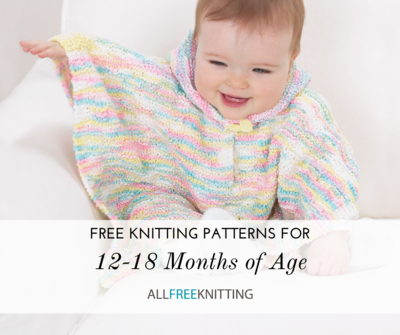 It sometimes seems as though all the best baby knitting patterns are for newborns. As the baby gets bigger, it gets more difficult to dress them in something that is comfortable, that they'll tolerate, and that is also adorable. Many of the best baby patterns come in multiple sizes, so that hat for 6 month olds can also be knit for babies of over a year old, but not all. These free knitting patterns for 12-18 months are guaranteed to fit your one year-old and still look ridiculously adorable. Don't worry; there are also very classic-looking patterns here for something you can take pictures in.

We love these patterns for relatives like grandma to knit because a busy mom might not spend the time and energy to knit something that she knows her little one will grow out of in a year or less. These baby knitting patterns make the perfect gift to spoil your littlest family member in a way that both mom and baby are sure to appreciate. Just make sure that what you're knitting is in a style that his or her parents will truly like; you don't want to waste all that time and energy knitting something precious just for it to sit at the back of a closet. We recommend sending Mom these patterns and having her pick some of her favorites before getting started.

Without further ado, check out the adorable free knitting patterns for 12-18 months below.

If you love these patterns, be sure to subscribe to our newsletter to get amazing knitting patterns like these delivered to your inbox every day!
Table of Contents
Your Recently Viewed Projects