24 Free Lace Weight Yarn Knitting Patterns
There are more thin yarn knitting patterns out there than you might think!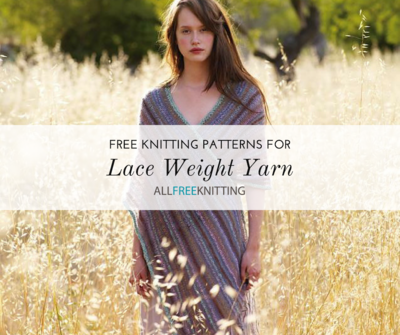 So, you were strolling around your local yarn store, running your fingers against all of the squishy, silky, colorful hanks of yarn, when something caught your eye: a gorgeous skein of lace weight yarn that you knew you just had to have. Hey, some of us go to yarn stores planning to choose yarn with very specific patterns in mind, but others (myself included) let the yarn choose us. The problem lies here: you don't actually know what you want to do with that yarn yet.

Projects for lace weight yarn often lean more in the direction of warm-weather garments, due to the yarn's thin and light nature. For the same reason, you'll find that most free knitting patterns for lace weight yarn take a long time to complete. It's not like with super bulky yarn where you can sit down for a Knitflix session and finish up a scarf in just an hour or two. You may find you've been knitting for multiple episodes and you've only finished a few inches of your pattern!

You'll find the stunning, intricate designs you can make with this lightweight yarn is worth the extra time it takes to knit up, however. Whether you're looking for your first lace shawl to knit, a featherlight scarf, or a full sweater (you ambitious knitter, you), you have plenty of options.

Plus: Check out our Guide to Yarn Weights
Table of Contents
Lace Shawl Patterns
Shawls are easily the most common projects for lace weight yarn you can find. For many knitters, completing an intricate shawl is the ultimate test of the progression of their knitting skills over the years. Taking the form of either a long rectangle (wrap), a triangular, circular, or semicircular flat garment, shawls are meant to be draped over the shoulders and are most often worn in formal settings. Occasionally, some wearers choose to gather them around their necks to wear as a scarf. If you're feeling up to the challenge, this knitterly challenge is a rewarding one.
Shawls aren't just for lace weight yarn! You can knit shawls using any yarn weight, and, spoiler alert: they are always beautiful. Check out our collection of 14 One Skein Shawls
Lace Accessory Patterns
If you don't necessarily have the patience for a lace shawl, or you don't see yourself ever wearing one and therefore don't feel the need to put forth the effort, I hear you! I'm not a shawl gal, either (though I can appreciate how lovely they look). For a more utilitarian use of your lace weight yarn, you might consider knitting a featherlight scarf to keep the breeze off your neck in the springtime, or a densely-knit hat for a cozy winter warmer. While these accessories will still take longer to knit up with lace yarn than with, say, worsted weight yarn, you'll find the dainty, delicate look of your finished accessory worth the time invested.
Looking for something a little cozier? We have a ton of hat patterns here on AllFreeKnitting that'll help keep you warm when the winter freeze sets in. Check out these 66+ Knit Hat Patterns for Winter
Lace Garment Patterns
For the ultimate test of knitting patience, or a project you can keep working on for months while you dabble in other endeavors, a sweater or poncho made of laceweight yarn is a fantastic option. You'll find the end result is something that could have been displayed in a store window, with its delicate detailing and smooth-to-the-touch texture. These sorts of projects for lace weiht yarn are the ones that you'll truly have to convince your friends that, yes, you actually knit it by hand. Bear in mind that these patterns are truly commitments, so think long and hard before you dedicate yourself to one of the beauties below.
Your Recently Viewed Projects