17 Fair Isle Knitting Patterns
These easy fair isle patterns are perfect for knitters of any skill level!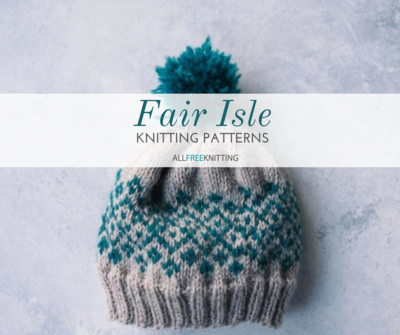 When new knitters talk about knitting techniques that scare them, the most common answers are cables and colorwork. Almost without fail, they are surprised by how simple these techniques actually are! All you need are a few simple projects to get your feet wet, and then the world of fair isle knitting is your proverbial oyster. This collection of 17 Fair Isle Knitting Patterns is a great place to start if you're uneasy about giving stranded colorwork a try, or if you're a seasoned pro who just wants some ideas for his or her next project.

What separates fair isle knitting patterns from those using other forms of colorwork, like intarsia, is that you are carrying both (or all) of the colors in your work throughout your entire project, so you can pick up and use any color in any stitch. You might recognize this style of knitting in Icelandic sweaters, with their intricate designs of two colors or more running from the shoulders all the way up to the neckhole, or even just standard stockinette stitch hats with floral or snowflake designs snaking around the perimeter. This collection has these ideas for easy fair isle patterns and more!

For more great projects like this, subscribe to our free email newsletter!
Table of Contents
Easy Fair Isle Patterns
These knitting patterns are great for dipping your toes into fair isle. With either easy-to-navigate colorwork patterns or just a single pair of colors to work with, these easy fair isle patterns are the perfect starting point for you in your stranded knitting journey. There's a pattern here for every kind of learner, from quick projects to just understand the style, or longer endeavors to help you really get the hang of the technique.
Fair Isle Knitting Patterns in the Round
Knitting in the round is easily the most popular way to knit in fair isle. This is because fair isle knitting produces long trails of unused yarn, called floats, on the wrong side of your work. When you knit in the round, nobody will see the wrong side of your work at all! Check out the following patterns for some easy fair isle knitting patterns in the round that anybody can knit with just a little practice.
Free Fair Isle Knitting Patterns for Babies
The best part about baby patterns is how small and quick they are! These free fair isle knitting patterns for babies are the best way to showcase your newly-learned skills while simultaneously giving a tiny newborn the gift of warmth and coziness. Sure, maybe they won't be able to wear these knits forever, but you can bet they'll keep them and pass them down to the next generation because beautiful fair isle knits can't just be thrown away!
What's your favorite kind of colorwork?
Your Recently Viewed Projects