Knitting for Charity: 31 Free Hat Patterns
There's no better way to give back than by knitting for charity! Give back while enjoying your crafts with any of these hat patterns.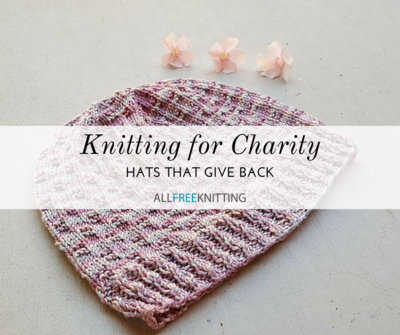 Knitting for charity does more than give the person donating warm fuzzies. It helps provide babies with hats, homeless people with cozy blankets—and more importantly, it shows someone that you care. Use this collection of 31 knit hat patterns to get started!

If you don't know where to begin, try contacting your local hospital. Many hospitals are looking for chemo caps and hats for underprivileged patients. There are also many charities that take charity knitting very seriously. Find a list of common charities here, get knitting, and start making a difference in someone's life.

It's amazing how small gestures such as knitting a hat can have such a big impact on someone in need. It doesn't matter if you know the lucky recipient of your charity knitting pattern because it is sure to put a smile on anyone's face. When you're down on your luck, knowing someone cares enough to knit you a hat is reason enough to continue to press onward. 

----------
If you love these patterns, be sure to subscribe to our newsletter to get amazing knit patterns like these delivered to your inbox every day!
----------

There is truly no better feeling than being able to share your talent with those in need.  Keeping someone's head warm will also warm their heart. Extend your reach beyond your inner circle by working up one of these free knitting patterns for charities and you will experience a tremendous amount of pride and satisfaction.

PLUS: Don't miss the video tutorial below on how to knit an easy knit hat for winter! Made using bulky yarn, this free knitting pattern works up quickly and is a great pattern to make for charities. 
Table of Contents
Basic Hat Patterns
Classic hat patterns are a great way to start knitting for those in need. Hats are both simple to make and a joy to receive as a donation. Enjoy the following hat patterns that are perfect patterns to knit for a charity, hospital or any place in need. These particular patterns are great to give to homeless shelters.
Baby Hat Patterns
What is more rewarding than knitting patterns for babies? Use these patterns to make a thoughtful baby gift set. Knitting for babies who need your help is rewarding, especially when you're making gifts for babies in need. You can donate your knitted hats directly to hospitals or contact a charity running a drive. These baby patterns really just keep on giving!
Chemo Hat Patterns
One of the most popular ways people choose to get involved with charity knitting is by donating chemo hats to their local hospital or through a local charity. There are plenty of chemo hat patterns out there, but here is a collection of easy patterns that can be made quickly.
What's your favorite thing to knit for charity? Tell us in the comments section below!
Your Recently Viewed Projects