What Can I Knit With 600 Yards of Yarn?
Whether you're knitting with fine yarn or super bulky wool, there's a ton you can knit with 600 yards.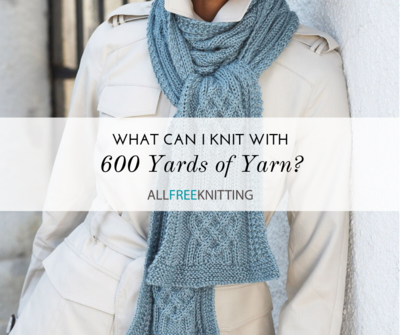 Whether you've come into a whole lot of yarn from a relative or you went a little crazy at your local yarn store, you've found yourself with 600 yards of the same yarn and no idea what to do with it. I'm not here to judge—just help. One of your options is to knit a bunch of smaller projects (which is a great option if there's a holiday coming up and you have a lot of family members to think about), but if you're ready to tackle something a little bigger with your brand new yarn, you've come to the right place.

600 yards, for those who aren't as familiar with estimating yarn length (or the imperial system), is nothing to sneeze at. In fact, when laid flat, you're looking at a third of a mile of yarn. That's enough for a small knit top or even a lap blanket! With this much yarn to work with, while you may not be able to get away with knitting a chunky oversized sweater, the sky is (almost) the limit.
Table of Contents
Your Recently Viewed Projects