What Can I Knit With 500 Yards of Yarn?
You'd be surprised how much you can do with 500 yards of yarn!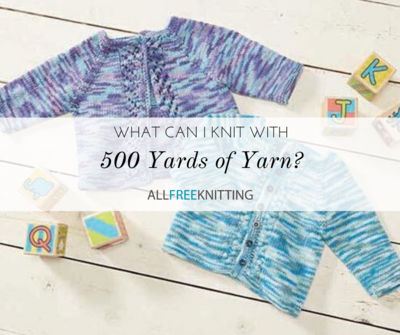 Many of us find patterns that we want to knit and then go out and purchase the yarn for it (or shop our stash for a suitable substitute). This way, we find ourselves with exactly what we need for any given project—no more, no less. However, there are certainly people who work backwards. You might even do this sometimes! It's not uncommon for people to find a special skein (or five) of gorgeous yarn in-store and purchase it impulsively, only to find yourself searching "how many yards of yarn for a blanket?" or "how much yarn do I need for..." and so on.

If you've somehow found yourself with about 500 yards of yarn, the world is actually your oyster. Not only can you knit a bunch of 100 or 200-yard patterns with that much yardage, you can find yourself able to complete some of the heftier kinds of projects out there, such as shawls, scarves, and even tops, that you wouldn't be able to pull off with just a skein or two of yarn. Go ahead and peruse the weight category of the yarn that you've found for some pattern ideas (or just inspiration) of how to use your new treasure trove of yarn.
Table of Contents
Your Recently Viewed Projects