The Best Things to Knit With Alpaca Yarn
These alpaca yarn knitting patterns will have you swearing off lambswool forever.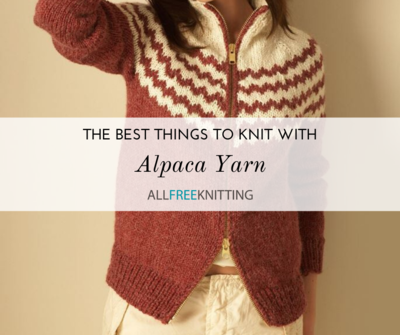 If you find yourself with a skein (or ten) of gorgeous alpaca yarn, consider yourself lucky. Not only is it typically harder to come by than run-of-the-mill sheep's wool, but it's considerably more luxurious. Alpaca wool is anecdotally softer and cozier than even mohair or merino, but, naturally, the quality of the yarn makes all the difference. You may be wondering what to make with alpaca yarn, fearing wasting such precious (and expensive) yarn. The answer is: anything you would make with regular wool!

Like sheep's wool, alpaca wool is best for its warmth and water repellency. The fibers of alpaca fur tend to be lighter and smoother than those of sheep's wool, however, which makes it more ideal for close-to-skin garments and accessories than scratchy lambswool. This doesn't mean that knitting with alpaca can't get itchy, however, so it's still worth keeping a good wool wash on-hand to treat your newly-knitted items. Since the characteristics of knitting with alpaca are essentially the same as standard wool, what to make with alpaca yarn includes anything warm and wearable—don't waste this deluxe yarn on home decor or amigurumi! Check out the alpaca yarn patterns below for some great ideas.

Sign up for free patterns!
Table of Contents
Your Recently Viewed Projects