What Can I Knit With Linen Yarn?
If you're looking to start knitting with linen yarn, here are some great pattern ideas to start you off.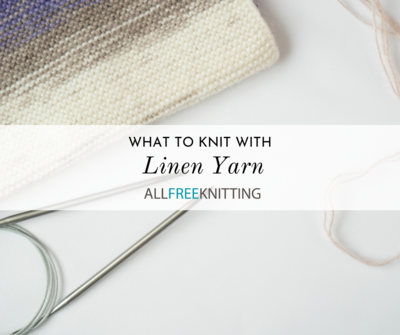 If you're anything like me, your favorite yarns are probably mostly made up of animal fibers. There's pretty much no beating the softness of alpaca and cashmere, the extravagant feel of silk, and the warmth of wool! That said, there are plenty of reasons you might be avoiding yarn made from animal hair and fur, including (but not limited to) allergic, ethical, religious, and financial concerns. A lot of knitters even live in warm climates and spend most of their time knitting tops, lightweight sweaters, and shawls, and the coziness of animal fibers may be impractical.

You would think that would leave you with just acrylic yarn and other synthetics, but there are plenty of natural plant-based yarns that you can work with, such as cotton, bamboo, or linen (a fiber made from the flax plant). Knitting with linen yarn and linen blends is unique; the finished product doesn't have the same elasticity as more common fibers, and it wrinkles quite easily. However, it's not delicate—you can truly put your linen yarn through the wringer by tugging at it, frogging it, and washing it (in a machine!) to your heart's content, and it won't lose its structural integrity like most animal fibers. Finally, knitting patterns with linen yarn are light and breathable, making them perfect for wearing on their own in a warm environment or layered under more insulating fabric in the cold.

If you've found yourself with new skein and the burning question "What Can I Knit With Linen Yarn?" then this list should give you some ideas.
Table of Contents
Shawls and Wraps
While getting your stitches to look nice and even can be a bit of a feat with stubborn linen, this type of yarn creates the most beautiful drape. Being lightweight and airy, this yarn type is perfect for knit accessories that will fall over your shoulders and keep you fashionable without wearing you down. Some of the shawls below would look lovely knit up in linen.
It can be hard to find the yarn first and the pattern second, but when you fall in love with a skein, there's no going back! If you've fallen for a skein of novelty yarn, check out some of these 7 Novelty Yarn Knitting Patterns
Fashion Scarves
Along the same line as shawls, you can make some beautiful, lightweight fashion scarves out of linen yarn. While I don't necessarily recommend making workhorse winter scarves from linen yarn, as there are better fibers for warmth out there, if you're just looking to accessorize your outfit with a chic scarf that you won't be sweating in.
Loose Sweaters and Tees
While linen typically isn't elastic enough for form-fitting fabric, it's absolutely ideal for loose, drapey sweaters and tees that'll give you that bohemian look and keep you cool in the sweltering heat. Many fashionistas pay top dollar for tops and pants made from linen fabric, so if you have the skill to make some of your own, why wouldn't you?
Bags and Purses
Pretty much any non-wearable is going to be something for which a plant-based yarn is suited, but many argue that linen yarn is far superior to cotton for bags, in particular, due to how sturdy it is. Linen will survive most anything you put it through, and is resistant to warping and tearing. Furthermore, since linen is machine washable, if something spills at the bottom of your bag, there's no need to fret.
Your Recently Viewed Projects