24 Jumbo Yarn Patterns
The largest weight category of yarn is surprisingly versatile when it comes to knitting!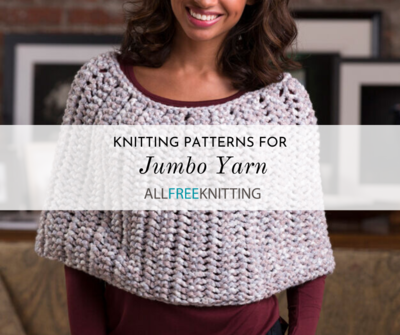 It's not unusual to find yourself a bit overwhelmed when you've picked up your first skein (or three) of jumbo yarn. How can yarn so thick be used to create anything you would actually want to wear? All you're missing is the perfect pattern. While it's easy for a knit made with jumbo (size 7) yarn to look clunky and intrusive, the right design will be tasteful, fun to knit up, and, most importantly, insanely cozy.

The appeal of jumbo yarn is, after all, the warmth! That's what makes it so great for knit accessories such as cowls or the super scarf yarn trend. That said, its touchably-squishy nature has also made it a favorite for home decor knits such as blankets and pillows. You probably already have an idea of what kind of project for which you want to use your jumbo yarn, so feel free to peruse any of the categories below to find a free pattern which really speaks to you.
Table of Contents
Your Recently Viewed Projects