Extreme Knitting 101: The Giant Knitting Trend You Need to Try
Learn how the giant knitting movement has taken the fiber world by storm. Plus, find a wonderful collection of free oversized knitting patterns.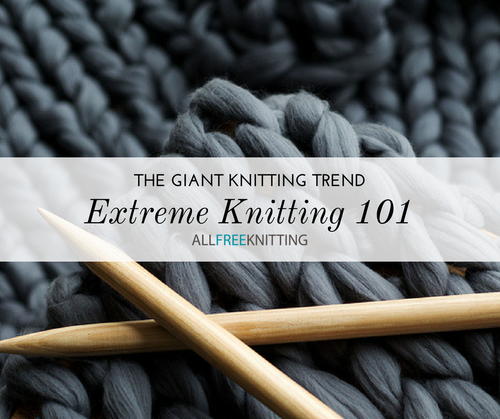 Recently, you may have seen an inordinate number of images on the internet of oversized blankets, enormous scarves, and unbelievably large knitting needles and thought to yourself, "Huh?"

Well, these extra-large creations can be attributed to the extreme knitting movement -- a movement that has definitely taken the fiber world by storm. In many ways, giant knitting patterns have caused a rejuvenation of sorts.

Though often perceived as a hobby for an older demographic, knitting is now experiencing a rebirth thanks to awe-inspiring Pinterest boards, oversized knitting celebrities, and fashion-forward yarn companies with their finger on the pulse.

As our friend Marie Segares from UndergroundCrafter.com said, "I'm always excited to see any movement that gets more people interested in fiber crafts like knitting and crocheting. Besides all of the health benefits of these hobbies, they are great ways to make beautiful things!"

So, why has giant knitting gained so much popularity?

These knitting patterns utilize traditional knitting techniques, but the end result looks completely unlike anything you've seen before due to extreme knitting yarn and extreme knitting needles. Let's dive deeper to explore what types of materials you need to participate in the trend, as well as some thoughts on how these patterns suit different skill levels. Plus, scroll down to find some of our favorite extreme knitting patterns!
Are you a fan of the extreme knitting trend? Why or why not?
Your Recently Viewed Projects