24 Free Knitting Patterns for Children's Sweaters
Check out our biggest collection of everything from free toddler sweater patterns to children's cardigans!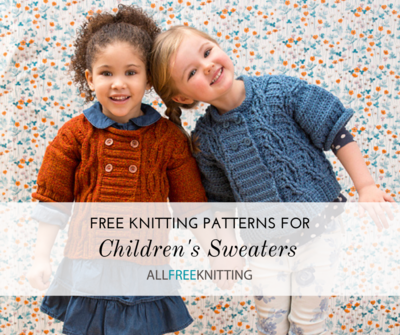 Baby sweater patterns aren't difficult to come by, so why is it so hard to find great children's sweater patterns? My theory is that, since children can (and will, freely!) voice their opinions about things, knitters are hesitant to spend the time making a handknit sweater for the children in their family. Nobody likes to slave over a hot pair of knitting needles for countless hours just to hear "I don't like it" from the recipient! Children aren't necessarily known for their subtlety. However, the problem in this scenario isn't the child, it's the pattern! You just need to pick the perfect, cutest pattern for the little one (and use comfy yarn) and he or she is guaranteed to love it.

I like to keep both the child and parents in mind when choosing children's sweater knitting patterns. Sure, little Timmy would probably love an ugly monster face on his pullover, but maybe his mom and dad aren't too keen on the idea of staring at that all day. Whether you choose either a classic or a playful design, just make sure that it's something that the parents can get on-board with. Finally, nothing itchy or uncomfortable, because you just know the little one is going to rip it right off. With that in mind, you're sure to find the perfect pattern in this collection of free knitting patterns for children's sweaters.

Join Our 160,000+ Fans And Sign Up to Receive Your FREE eNewsletter!
Table of Contents
Your Recently Viewed Projects