20+ Free Christmas Knitting Patterns: Santas, Reindeer, and More
Check out these free knitting patterns for Christmas and prepare for the most wonderful time of year with one of these handmade treasures.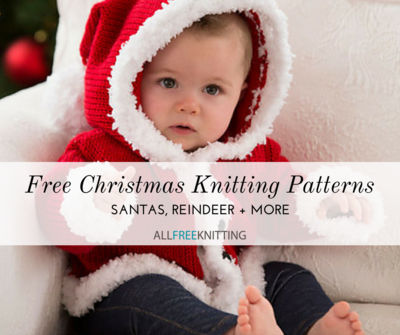 It happens every year--the holidays manage to sneak up on us and we have to scramble to finish making gifts. With the rush that comes with making (and even buying) gifts for everyone on your list, it's easy to run out of time for decorating.

While you have your old decorations that you put up every year, wouldn't it be nice to spice it up with some handmade holiday toys and ornaments?  

Even if you feel that your home is overflowing in the decoration department, these patterns would make a great gift for a friend or neighbor.

In this collection of 16+ Free Christmas Knitting Patterns, we've rounded up some of the classic holiday patterns that the web has to offer. In this collection, you'll find everyone's favorite rosy-cheeked Santa, the oh-so-brave Rudolph, and other delightful patterns that capture the magical essence of Christmas. In reds, greens, and snowy whites, these holiday knitting patterns capture the festivity of the holiday season and will bring happiness and cheer to your home!

If you love these knitting patterns, be sure to subscribe to our newsletter to get amazing knitting patterns like these delivered to your inbox every day!
Table of Contents
Santa Knitting Patterns
You can't have a Christmas celebration without the appearance of Santa!  Make yourself a homemade knit hat in a matter of hours or knit up some Santa-themed baby clothes for the winter. 

No matter which pattern you choose, have fun enhancing your holiday celebration with these homemade Santa knits!
Reindeer and Snowmen Galore
I can't decide which pattern I like the best out of these. The Adorable Snowman Potholder is perfect for a festive Christmas meal, but the Rudolph Hat is so incredibly cute!

I want to knit one for everyone in my family (even if they are too old to wear it). If you start early enough, you might even have time to make ALL of these Christmas knitting patterns to brighten up your home for the holidays!
More Delightful Christmas Knitting Patterns
Lastly, every home needs a knit stocking to hang from the fireplace and other festive holiday knitting patterns.

These Christmas knitting patterns will brighten up your home and bring in those festive splashes of red and green that make the holidays so cheerful.
Your Recently Viewed Projects