30 Free Knitting Patterns for 2 to 3 Year Olds
Knitting for toddlers shouldn't involve a wild goose chase for patterns. Check these out for your next knitting project.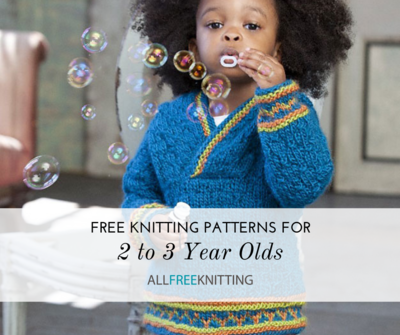 Why does it seem as though knitting for babies is a thing, and knitting for children, teens, and adults is common, but toddlers are just fully forgotten? Are we supposed to not knit for the little ankle-biters in our family? I don't know about you, but I have three toddlers in my extended family right now, and I hate the thought of not knitting for them until they're in elementary school. These free knitting patterns for 2 to 3 year olds are ones that I always keep bookmarked just in case a holiday or birthday is coming up... or (let's just be honest with ourselves) because I want to knit something cute.

While you could find easy children's knitting patterns (free ones!) pretty easily, it's never a guarantee that they're going to fit the youngest of little ones, and it may be nice to gift them something that they can grow into, but ultimately, it's nice to have something they can wear now rather than leave forgotten in the back of their closet. Here's a hot tip: mothers in baby showers love to receive an outfit or two for their kids when they reach toddlerhood, both because they're reminded of how sweet their little one will look growing up, and because they're only receiving baby stuff from everyone else! Check out some of the patterns below for ideas for your next gift.

Love these free patterns? Subscribe to our newsletter to get incredible free patterns delivered directly to your inbox!
Table of Contents
Your Recently Viewed Projects