8 Designs for Knitting: Free Patterns for Beginners and Easy Knitting Stashbusters free eBook
By:
Audrey Huggett, Editor for AllFreeKnitting.com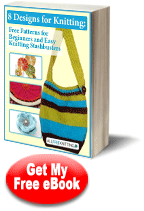 Almost every knitter has a stash. The stash, for the uninitiated, is comprised of those bits of extra skeins that are too long to just throw away (heaven forbid), but too short to make into a hat, and skeins of hoarded yarn, accumulated over years spent in craft stores. The stash, in short, is a supply of extra yarn for the knitter, carefully consolidated and tended over the years.
Most stashes are bursting with bits of leftover skeins of yarn. Amounts of yarn that you could possibly make one sock, or one mitten, but what would be the point in that? The answer to the overflowing stash is, of course, the stashbuster. Knitting stashbusters are specifically designed to use small amounts of yarn, with the underlying purpose of cleaning that extra yarn out of your closet. Stashbusters are also great patterns for beginners to try out, since they are quick projects. 8 Designs for Knitting: Free Patterns for Beginners and Easy Knitting Stashbusters is the go-to guide for all your pattern needs. If the door to your yarn closet is starting to buckle and creak, download this free eBook and get going. These fun patterns will have your stash under control in no time.
Stashbusters can and are anything. These simple designs for knitting can be anything from a scarf to a flower. Knitted flowers are particularly popular stashbusters, since you can attach your flower to another project as an embellishment. We've gathered together some of our best stashbuster patterns so that you don't have to sort through the multitude of patterns out there. These free knitting patterns will make you wish you had a bigger stash. From flowers to children's toys, these designs for knitting are sure to be a hit. You will want to hang onto a copy of this free eBook for years to come.
8 Designs for Knitting: Free Patterns for Beginners and Easy Knitting Stashbusters Free eBook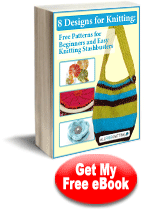 Download your free copy of 8 Designs for Knitting: Free Patterns for Beginners and Easy Knitting Stashbusters today!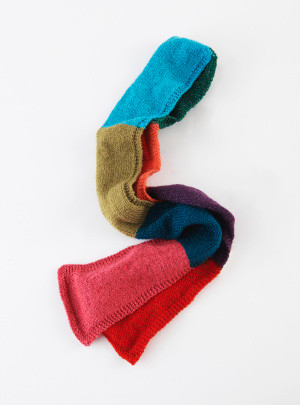 Picking out a pattern to knit as a beginner can be a daunting task. You can make almost anything with a pair of needles and enough yarn, and there are enough patterns out there to make any newbie's head spin. Starting out with the right kind of pattern can also make the difference between an enjoyable, successful project and a frustrating ball of yarn that gets put down after a couple of days. It's a little known fact that stashbusters can actually double as excellent beginner projects. Since stashbusters tend to be smaller projects that use less yarn, they're often small projects that can be finished quickly.
The smaller scale of stashbuster patterns makes them perfect for beginners. The smaller quantity of yarn used means that beginners can invest less money, or use yarn from the stash of a supportive friend who already knits or crochets. Starting off with an easy knitting pattern, like the Rainbow Dreams Scarf (page 16), is a great way to build confidence as a beginner. Instead of wrestling with a stitch you don't understand, these simple patterns will have you happily knitting away in no time. Practicing on these quick knitting patterns for beginners will help you gain the knowledge you need to become a successful knitter.
With just a little bit of practice, beginning knitters can use these great knitting stashbuster patterns to help them become more experienced. After knitting up a couple of the easy projects, you can easily move onto something a little more challenging. More experienced knitters will love these simple knitting patterns, too. If you're in the mood to knit up something mindless, these patterns will certainly fit the bill. Sometimes it can be nice to recharge your knitting batteries with an easy pattern that you don't have to think about. Quick and easy stashbuster projects are a great way to crank out a project without expending too much time or effort.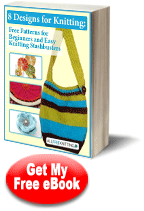 Download your free copy of 8 Designs for Knitting: Free Patterns for Beginners and Easy Knitting Stashbusters today!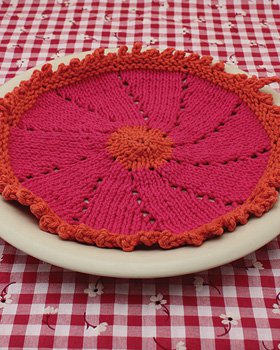 Stashbusters are, by nature, typically not very difficult patterns. The aim of the stashbuster is to use up leftover yarn, so the patterns are almost always small, or are comprised of numerous small elements. So when you think stashbuster, you almost inevitably also think fast and quick. The simple nature of stashbuster patterns makes them a great choice for in between projects. Stashbusters are the patterns you turn to when you're waiting for that new sweater yarn to come in, or if you just aren't sure what your next big endeavor might be. These easy knitting patterns are a great resource to use when you are out of knitting ammo, but still want to keep your fingers moving.
Stashbusters have other advantages as well. Do you have a project coming up that uses a technique you aren't familiar with? Stashbusters are a great way to try out new knitting skills. You can either use some of your yarn stash to make a plain swatch featuring that yarn over combo, or you can try out a stashbuster that uses that technique. You can create something while you learn. This particular collection features a healthy selection of patterns that utilize techniques like yarn overs or short rows.
The Posy Dishcloth (page 4) uses yarn overs to make a lacy pattern within the dishcloth. By the time you cast off this cute, yet functional, project, you will have mastered the yarn over. Patterns like the Baby's First Football (page 6) will introduce you to the magic of short rows. Stashbusters don't have to be projects that you do not care about. You can make useful items, like dishcloths or toys, with your spare yarn. These easy knitting patterns are also a great way to learn, at no additional cost. Why wait? After you download this free eBook, pull out your stash and get knitting.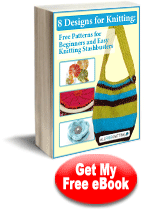 Download your free copy of 8 Designs for Knitting: Free Patterns for Beginners and Easy Knitting Stashbusters today!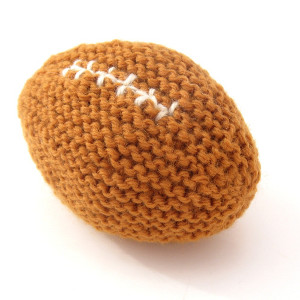 There are plenty of free knitting patterns to go around in this wonderful eBook. Greet the newest member in your family with the Baby's First Football (page 6), a quick knitting pattern that will make the perfect soft toy for any child. This free knitting pattern utilizes short rows to make a perfect football shape. If you've never tried out short rows before, this is a great pattern to start out with. The stakes are small, since you will be trying the technique out on spare yarn. Testing out new techniques before trying to use them in a large project is an easy way to avoid basic errors. Your baby won't notice if there's a small mistake in his or her toy, and you can knit up that sweater with the shoulder shaping that you have been thinking about with confidence.
If you are more interested in finding new ways to jazz up old clothes or knitted projects, check out the Winter Flowers (page 18) pattern. This is another quick pattern that utilizes short rows. After becoming a short row master, you could easily churn out several of these tiny flowers to pin to your clothes. You could either use the flowers a permanent sweater or cardigan embellishments, or pin them to clothes as brooches. Make a bunch of these little flowers and connect them to make a cute flower crown for a child's Dress-Up Box.
You can do almost anything with these fun stashbuster patterns. You will be able to find all sorts of uses for these fun easy knitting patterns. You may even find yourself running out of stash yarn to work with! Small, quick projects can be just as rewarding as knitting a sweater. So what are you waiting for? Download your copy of this free eBook today!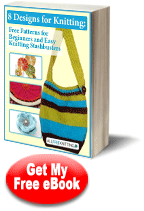 Download your free copy of 8 Designs for Knitting: Free Patterns for Beginners and Easy Knitting Stashbusters today!
With your free copy of 8 Designs for Knitting: Free Patterns for Beginners and Easy Knitting Stashbusters eBook you can also subscribe to our Knit Picky Patterns newsletter to become part of a helpful and friendly knitting community. In subscribing to the newsletter you will receive:
Six weekly emails with free knitting patterns, tips, collection pages, videos and more.
Chances to win knitting books and products from our weekly giveaways and contests.
New FREE knitting patterns made available to you throughout the year. Access to our free pattern library full of over 1,000 more free knitting patterns.
The opportunity to share ideas and help others in the knitting community.
With our latest eBook, 8 Designs for Knitting: Free Patterns for Beginners and Easy Knitting Stashbusters, you'll find yourself knitting any number of fun knitting stashbuster patterns. And once you subscribe to receive our newsletter, Knit Picky Patterns, you'll see how incredibly rewarding it is to be a part of the knitting community! Check out this free eBook and the AllFreeKnitting.com site to draw tons of knitting inspiration!
Free projects, giveaways, exclusive partner offers, and more straight to your inbox!
Tags / Related Topics
Your Recently Viewed Projects
Images from other crafters

Project of the Day
The best knit hat patterns are always the simplest. A great winter hat has neither frills nor fuss - it just keeps you warm. Sure,… Continue reading: "Steinway Hat"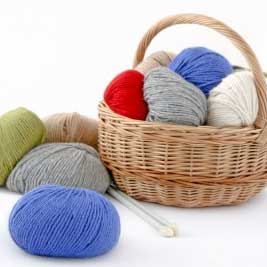 Something worth saving?
SAVE all your favorite patterns
ADD personal notes
QUICKLY reference your patterns