34+ Adorable Knit Baby Hats
Choose your favorite baby hat knitting pattern and get to work! These knitted baby hats are ideal for any skill level and perfect for the little one in your life.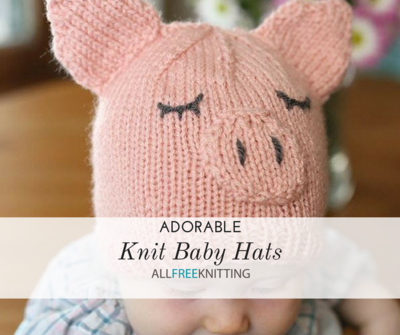 Everyone gets excited for a new addition to the family and you're sure to love these baby hat patterns. For knitters, creating a handmade gift is the perfect way to welcome a new child into your family. Of all the things to knit, baby hats are one of the best choices a knitter can make. Tiny enough that they can be knit quickly, baby woolen cap knitting also bears the potential of a blank slate; you can make your own creative mark on it if you choose.

And there's a lot of room for flexibility with baby hats, since babies will uncomplainingly wear a hat with bunny ears or fun colorwork, and they'll look darn cute doing it too! These tiny hats are great quick projects that won't use up a lot of yarn. Whether you're knitting away on a hat on behalf of a family member or between doctor visits, these adorable patterns are a great way to deck out the little one in your life.



If you love these knitting patterns, be sure to

subscribe to our newsletter

to get amazing knitting patterns like these delivered to your inbox every day!


There are plenty of cute, free baby hat knitting patterns available to knitters of all abilities, even beginners. Learning how to make woolen caps for baby is a great way for beginners to try their hand at a hat in miniature before graduating to adult-sized hats. Like all projects for children, the scaled-down nature of the baby hat pattern makes these projects great for testing out techniques without investing a lot of time or yarn.

Just imagine your grandbaby coming home from the hospital wearing one of these precious knitted baby hats you made with your own two hands. Or, use one of these free knitting patterns to make a hat for your own child, a friend, or for charity. Everyone will love these baby hat knitting patterns, so you have nothing to lose.

PLUS: Check out how to make a yarn pom pom - its a super cute finishing touch to your next knit baby hat!
Table of Contents
Baby Steps: Easy Knit Hat Patterns
Simple knit baby hats can be some of the cutest patterns. This collection of easy knit baby hats will tempt you to make every pattern for your little one. Beginners don't have to miss out on the baby hat pattern fun, and will find plenty of cute choices among these patterns. From simple stripes to hats with bows, there's something adorable for every baby in this collection of easy knit baby hats.

Even if you don't have a little one on the way, donating a knit baby cap is a wonderful way to put your knitting skills to work for the community. Learning how to make woolen caps for baby is such a special skill to have. You will be able to spread love through your knitting patterns in no time.
Growing Up: Knitting Hat Patterns with a Twist
Take your knitted baby hats to the next level with these fun patterns. For knitters who are looking for something a little more challenging, these knit baby hat patterns will give your fingers a thrill without breaking the bank or trying your patience. One of the best things about knitting for children, besides adorning your loved one with a handmade hat, is the opportunity to try new techniques and ideas in miniature. The stakes for knitted baby hats are much lower since you won't be investing as much time and money into the project.

So let your wild side run free and pick the baby woolen cap knitting pattern that will give your inner knitter a true thrill. Once you imagine the little one in your life wearing one of these too-cute knitted baby hats, you won't be able to resist grabbing your needles and starting one of these baby knitting patterns right away. 
Basic Baby Hat Knitting Patterns
Basic baby hat knitting patterns are a great starting point if you want to make a handmade baby shower gift or a keepsake knitted item. With so many knit baby hat designs to choose from, you can truly let your imagination run wild and use your creativity to the fullest extent possible. Knitters of all skill levels can appreciate the joy that comes with creating a special item for the smallest member of your family. Perhaps the baby hat you knit today will become a family heirloom passed down from generation to generation.

No matter which free baby knitting pattern you choose to work up, we can guarantee you'll love the process of creating a special topper for baby's precious head. These basic baby hats are easy to complete, but that certainly doesn't mean they lack style or versatility. Give one or more a try today and we know you'll be pleased with the results.   
Which baby knit hat patterns do you like best? Leave a comment below!
Your Recently Viewed Projects