24 Acrylic Yarn Knitting Patterns
You might be surprised to learn just how many uses for acrylic yarn there are.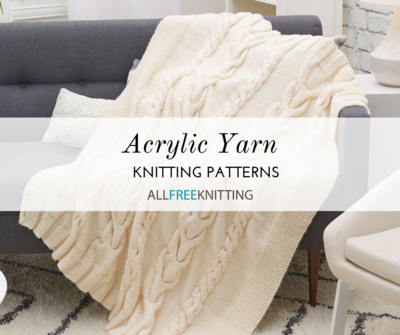 It's almost inevitable that knitters who have been stitching for quite some time will develop strong feelings about acrylic yarn. It's the kind of fiber you either love for its affordability and availability or hate for its cheapness and lack of breathability. Certainly the difference between wool and acrylic yarn is great, but that doesn't mean that it doesn't have its place in the knitting world. Like any other fiber, there are pattern types that just make the most sense to be knit with acrylic yarn.

Acrylic yarn is one of many synthetic types of yarn which, if I can spare you the scientific talk, is essentially plastic. Not relying on any sort of animal or plant, acrylic yarn is ridiculously cheap to produce and stock on shelves. For this reason, even the biggest fiber snob probably used acrylic yarn or some acrylic blend in her very first project. It's also washable and mostly hypoallergenic, which makes it a very safe option. There are, however, downfalls to this yarn: it lacks the insulation and breathability of natural fibers, which can make it feel stuffy and uncomfortable when used on wearables like sweaters or scarves, it melts when it comes in contact with high heat (making it unsuitable for potholders), and it lacks absorbency, ruining its potential for dishcloths. There's also plenty of discussion on the negative environmental impact of acrylic yarn. What can I knit with acrylic yarn, then you might ask? Well, especially if you're a beginner, you can knit whatever you want with acrylic yarn. Why should a beginner spend big money on natural fibers when he or she can hardly cast on?

That said, there are plenty of uses for acrylic yarn that even the seasoned knitter can get behind. These acrylic yarn knitting patterns will help you bust your synthetic stash.
Table of Contents
Your Recently Viewed Projects