23 Seed Stitch Knitting Patterns
Create beautiful cowls, scarves, and even sweaters with these knit seed stitch patterns!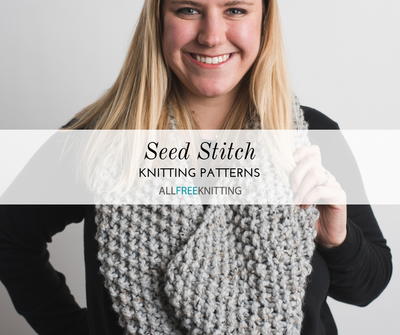 Creating an attractive texture in your knitwork doesn't have to be complicated. In fact, with the seed stitch, it becomes as easy as alternating between knit and purl stitches! This collection of patterns is perfect for seed stitch lovers out these.

Even if you've just learned the basics of knitting, free knit patterns in seed stitch are one of the fastest (and most addictive) ways to achieve a modern, professional look to just about any project you have on your knitting needles! With just simple patterns that are easy to memorize, you'll be able to make a piece of fabric that features tiny, seed-like bumps in the work.

You'll discover all new ways of utilizing seed stitch in this collection. From cozy knit sweaters and scarves to jackets and cowls, this selection of patterns will be suitable for knitters of all skill levels. You'll want to pick up your knitting needles and start a new project right away when you see these patterns!

Bonus: Do you need a quick refresher on how to work seed stitch? Then you'll want to check out this video tutorial on how to knit the seed stitch to rediscover the basics. Here's a refresher:
Row 1: (RS) K1, p1
Row 2: (WS) P1, k1
Table of Contents
Seed Stitch Knitting Patterns for Cowls and Scarves
Bundle up in chilly winter when you make these beautiful knit patterns for cowls and scarves! From classic designs to fashion-forward looks, these seed stich knitting patterns are definitely worth a try. These patterns won't take you long to make, but will look simply stunning nonetheless. You'll be ready for fall and winter with these knit items. Keep these patterns in mind for any last-minute gifts you need to make, too. Everyone could use a handmade knit accessory!
Seed Stitch Sweater Patterns
You'll stay warm and stylish when you add a knit seed stitch sweater to your outfits! The classic knit stitch adds an elegant look to any sweater design and can give the final project a textured look. Although knit sweaters are practically synonymous with winter, you can whip up a few sleeveless numbers for summer, too. Show off your knitting skills all year with these seed stitch sweater patterns!
Seed Stitch Knitting Patterns for Accessories and More
You may be most familiar with the seed stitch when it is used in scarves and sweaters, but it can certainly be used in other item as well! Whether you're looking for the perfect bag, a warm jacket, or even a cozy for your morning cup of joe, you can't go wrong with these seed stitch knitting patterns. These patterns are fun ways to create that is new to you and would also make lovely gift ideas. In addition, some of these knitting patterns use just a small bit of yarn, allowing you to make a dent in your yarn stash.
If you love seed stitch knit patterns, then you might like the chevron stitch! Discover an assortment of patterns that use the stitch when you take a look at our collection of  25 Free Chevron Stitch Knitting Patterns
Your Recently Viewed Projects