16 Wild Animal Baby Knit Patterns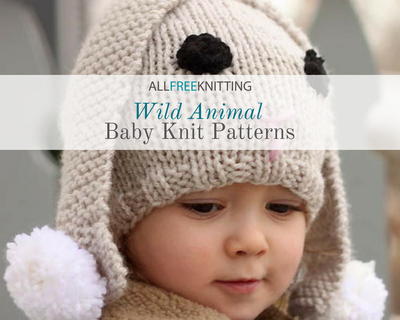 Have a little fun with your baby's wardrobe!
The only thing half as cute as a baby is a baby dressed up like a tiny animal. If you've never experienced the joy of putting a bunny ear knit hat on a baby, then these animal-themed baby knits are here to fill that void in your life.

Stand out in the crowd when you take them to the park in a knit duck set, or put a hippo hat on their head for a day trip to the zoo! We've got hats and booties to help dress them up for their first photos as well as soft blankets to wrap them up in. Wherever you go, odds are with these knits in your stroller, your baby will be the center of everyone's attention!  

Bring out the wild in your child and check out these awesome knit patterns! 
 
Table of Contents
Knit Baby Animal Hats
Baby knit hat patterns are the easiest way to turn your adorable baby into an adorable woodland creature. While some hats are easier to make than others, the effort is well worth the payoff you get in adorable photo opportunities.
Knit Animal Blankets
Babies adore animals. You'll know this if you've ever seen a baby anywhere near the zoo. Why not bring a little bit of the wild into the nursery with these animal-themed knit baby blanket patterns?
Looking to deck out your baby in all the knitwear you can make? Then check out our free e-book of baby knit patterns -  Red Heart Patterns for Baby
Knit Baby Set Patterns
Why stop at just the hats when you can give your baby the full knit treatment with some knit baby sets? These paired animal-themed knit projects aren't just good for everyday wear, they also make warm and comfortable Halloween costumes for your baby's first night of trick-or-treating!
BONUS: Knit Booties Pattern + Knit Sweater Pattern
Looking to go the more traditional knitter's route? We have a "beary" nice knit sweater that's small enough for your little tot. Or maybe you're looking for a real challenge? For that, we'd recommend the Little Sheep Booties. They're a little more challenging, but we can guarantee your baby will have a one-of-a-kind wardrobe piece! 
What's your favorite animal to incorporate into your knit projects?
Your Recently Viewed Projects