26 Free Knitting Patterns for a 2 Year Old Boy
These free knitting patterns for toddler boys are just as fun to knit as they are for your little one to wear!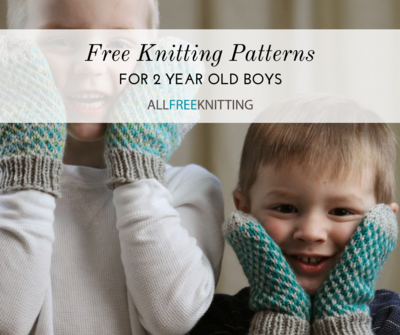 The terrible twos. We've all heard of them, and we all fear them. It's important for parents to take joy in the little things during this difficult time in parenting, and I mean that literally. Knitting for toddlers is as fun as it is rewarding, especially since the free knitting patterns for a 2 year old boy are still small and quick enough that they fly off the needles. However, at two years old, your kid is already starting to develop a sense of taste, and that sense of taste may be, well, trucks and monsters.

While these free knitting patterns for toddler boys are masculine in nature, there's a good chance your little girl might like them, too! Make a fun activity out of it by showing your kiddo these patterns and having them tell you whether or not they like what they see. Whatever they seem most enthusiastic about, go ahead and knit it up; it's not going to take much time at all to whip up these free knitting patterns for a 2 year old boy, so you have nothing to lose!

Sign up for our free email newsletter for more amazing patterns!
Table of Contents
Knit Sweater Patterns for Toddler Boys
Sweaters are going to be the more time-consuming patterns for 2 year old boys out there, but they sure are rewarding! They're even fun to gift for second birthdays because their parents will always treasure a handknit gift for their little scamp. From monster faces to bold colors, little boys (and girls with more boyish tastes) are sure to love these sweaters.
Free Knitting Patterns for Simple Boys' Hats
Okay, some of these are not so simple, but why keep things simple with toddlers? Toddler boys especially can be fussy with hats, so the closer you make them to something that they can get excited to put on, the better! With fun knit toddler hats like these, they're bound to complain a little less this winter when getting all bundled up to go outside and play.
Knitting Patterns for a 2 Year Old Boy: Toys
Toys are some of my favorite knits for toddler boys because, unlike with sweaters or hats, they can't physically grow out of them! Sure, they may no longer be interested in playing with a little stuffed froggie when they get a little older, but they can always keep them for any new little siblings or cousins in the family, or even for their own children one day.
Boys' Knitting Patterns: Accessories
From cowls to mittens, just about anything you might think of knitting for an adult, you can (and should!) knit for a toddler. While they may be a little squirmy about having to wear any extra layers, the longer they can play outside in the snow, the better.
Your Recently Viewed Projects