36 Free Knitting Patterns for Children's Hats (and Scarves)
Check out this wonderful collection of knit children's hats and find the perfect way to keep your little one's head warm all winter long.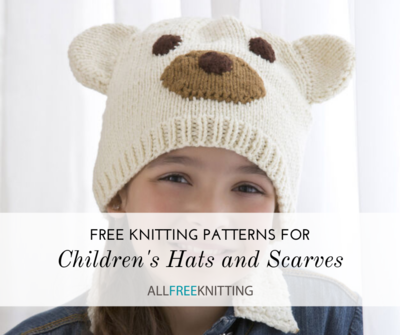 The best thing about knitting for kids is that they'll wear almost anything – that is, until they reach the tender age of twelve. After that, cooties disappear, boys are cute, and girls are hard to talk to. But up until then, kids don't care about clothes - as long as they're comfortable. They have to be loose enough to let them beat the next door neighbor in a race and warm enough to keep them focused during a competitive game of capture the flag.
 
With winter right around the corner, it's important to remember that kids don't always think about getting sick when romping about in the snow. All they care about is building the best igloo on the block or throwing the most snowballs. This collection of warm knit hat and scarf patterns is sure to dash any hint of a cold and keep your child warm all winter long. The patterns below are both mother-tested and kid-approved, so knit for your kids while you still can! It won't be long until they refuse to wear an adorable cable knit hat with a fluffy pom pom on top.

FIRST! Check out how to knit a hoodie hat for any age, so your little one can bring their favorite hat with them from infancy to adulthood!

If you love these knitting patterns, be sure to subscribe to our newsletter to get amazing knitting patterns like these delivered to your inbox every day!
Table of Contents
Playful Animal Hats
Knit an entire forest of fuzzy creatures with this list of animal knit hat patterns. These cozy hats are not only adorable, but a great way to spot your little one while out ice skating, playing at the park, or going sledding at the neighborhood snow hill. Kids will love these playful animal hats for a number of reasons, but you'll love them because they'll keep their ears nice and warm. Let your child take his favorite animal with him wherever he goes with one of these playful animal hats.
Warm Winter Hats
This collection of warm winter knit hat patterns is just as cute as the playful animal hats above. There's a cozy hat to suit every child's needs in this list. Keep that sweet little head warm in a classic cable knit hat, such as the Chill Be Gone Hat. For a colorful look, try the Farmer's Market Hat or another striped beanie. There are so many ways to get creative with a child's knit hat pattern – all you need is a little inspiration from this list of cozy, kid-approved hats.
Children's Knit Scarves
Sometimes kids are too fussy to wear hats, and other times, they're too cold to wear just a hat! In either case, a knit scarf is a great next project for your little one. These scarves are incredibly quick to knit compared to adult knit scarves, and they'll help keep your little angel warm on his way to and from school, as well as playing outside in the snow.
Your Recently Viewed Projects