Winter Knits: 60 Knitting Patterns for Winter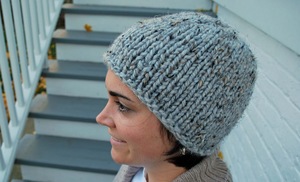 When we start thinking of winter knits, our minds automatically jump to Christmas. We start thinking of green and red yuletide knits. We bust out the circular needles for stockings and Santa hats. But what about the other cold winter months? We have a stockpile of knits for December, but what do we wear in January, February, and March? We need a different set of knits for the days when our holidays have passed but the cold remains.
Don't worry- our collection of Winter Knits: 60 Knitting Patterns for Winter will keep you warm all winter long. These evergreen winter patterns will look great no matter what month it is. Whether you need a sweater for January snowstorms, a hat for February flurries, or some mittens for March sleet, we've got winter knits to keep you cozy until springtime.
Winter Knits: 60 Knitting Patterns for Winter
Table of Contents
If you're looking for a one-stop winter knit, then these hat knitting patterns are for you. Keep warm and grab a knit hat before you run out the door. The cables and fair isle knitting motifs will always look classic and stylish. If you want to mix up your knitting patterns for winter, try the knit winter headbands and wraps.
Keep your fingers warm with one of these adorable knitted mitten patterns. With such cute designs and motifs, you'll never forget these mitts when you run out of the house. These knitting patterns for winter will keep your hands out of your pockets and will have them out catching snowflakes!
Do you want even more mittens? Check out our collection of
16 Free Knit Mitten Patterns
today!
As knitters, scarves are one of our classic knitting patterns for winter. From our first knitted projects to our staple knitted gifts, scarves will always hold a warm spot in our hearts. Keep your neck warm against the winter chills with one of these winter knits.
Cowls are a great way to stay fashionable and fabulous, even during a harsh winter. These knitting patterns for winter are a little less bulky than scarves, but they have all of the style. These gorgeous winter knits will keep you cozy until it's time for light springtime cowls.
We are so busy warming up with our hats, mittens, scarves, and cowls that we often forget about our legs! Keep your feet warm in your boots with these stylish knitting patterns for winter. Grab a pair of knitted leg warmers and your leather boots to look trendy while traversing the snow.
Some sweaters never go out of style. You'll reach for these timeless pieces again and again. When it comes to knitting patterns for winter, you need something warm, comfortable, and stylish. These sweaters will become your old standbys.

It can be hard to get your kids bundled up for the cold. They can never stand still for all of that layering! We promise that they won't mind wearing these simple, cozy pieces. These new sweaters, cowls, and leggings will become their new favorites! If they love these knitting patterns for winter, then you won't be afraid to let them pick out their own cold weather outfit for the day.
Your Recently Viewed Projects