27 Free Premature Baby Knitting Patterns
Use these adorable, tiny knitting patterns to welcome an early baby into the world!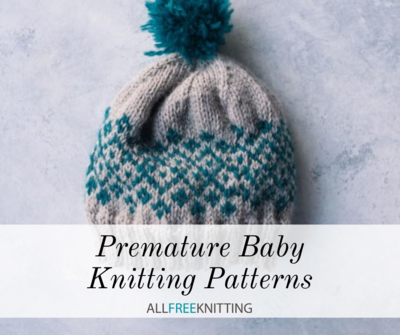 If a precious baby in your life has arrived a little early, mama might have a lot of things on her mind. She might be wondering what kinds of special care her little one will need, how many new bills she'll have to take care of, and most importantly, how healthy her little one is. Maybe you're the mother and, right now, it feels like your knitting needles are the only tools that can help you through this. These free premature baby knitting patterns should help bring both mommy and the little one some comfort.

The birth of a child should be a cause for excitement no matter what the circumstances, so it's time to treat it like one! There's always going to be plenty to stress about, but there's so much more to celebrate. In this case, we're lucky to live in a day and age where free preemie patterns are abounds, and they're cuter than ever. Knitting for preemies is not only easy, but it's fun and quick. From free preemie hat patterns to preemie baby booties, there's so much you can do to keep your hands and needles busy as the little one adjusts to his or her bright, new world.

The best part about these patterns is that you can make premature baby sets out of them; any one of these hats, sweaters, booties and blankets can be mixed-and-matched to create the most adorable little gift set, which will be a welcome happiness for a stressed mom in the first few weeks of her preemie's life. Click around and find your favorites, or patterns that best match the nursery, to make the perfect premature baby sets.

Join Our 160,000+ Fans And Sign Up to Receive Your FREE eNewsletter!

PLUS! Even premature babies need bibs; check out the easy pattern below to make for your favorite little preemie.
Table of Contents
Preemie Knitted Hat Patterns
My favorite free patterns for premature babies are easily the hats. They're just so tiny and cute, and they're done in no time flat! These free preemie hat patterns are the best way to distract yourself for a little while or comfort a stressing mother. Since they're all so quick, you could easily knit up a bunch of them in just a couple of nights to give away to a new mom, or even charity.
Free Premature Baby Knitting Patterns for Sweaters
While we often think of sweaters as some of the most laborious knitting patterns, knit baby sweaters are considerably quicker and easier, and preemie sweaters even moreso! While they do typically use finer yarn than adult sweaters, they're still so much simpler and quicker to knit up. Since knitting for preemies is so quick, you can knit a couple of sweaters a week, making them a great option for donation to your local charity organization.
Preemie Booties Knitting Patterns
Okay, I lied. Preemie baby booties are my favorite. Maybe they're all my favorite. It's hard to believe that a person's feet were once this little and cute, but it's true! Like hats, these baby booties are incredibly versatile and can be knit up in just about any color or style to fit your ideal premature baby sets. If you want to go the extra mile, knit the mom a matching pair of socks to commemorate the occasion!
Premature Baby Blanket Knitting Patterns
The best part about baby blankets is that you can really use whatever pattern you want for the little one and it will fit perfectly. Blankets are perfect and cozy even if they are a bit too big, and the patterns are usually easy enough to alter by knitting fewer repeats to make them the correct size. I think any of our baby blanket patterns will be perfect for a preemie, but these are some of my favorites.
Premature Baby Sets
If you can't be bothered with putting together a set for yourself and want to make sure that all of the free preemie patterns are perfectly coordinated, this is the list for you. These sets were curated just for premature babies and are destined to look adorable on the new arrival.
Your Recently Viewed Projects