Free Online Knitting Class (Knitting Class: Part 1)
In this free online knitting class, we will take you from your first slip knot to completing your very first pattern!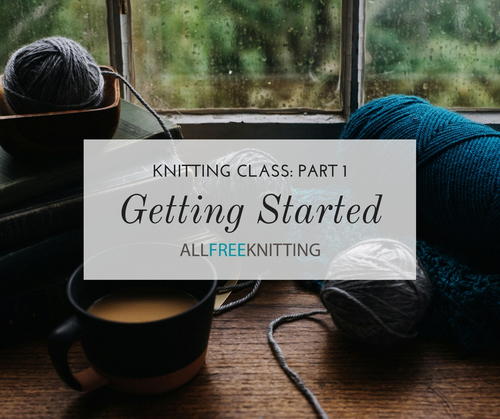 Knitting has somewhat of a reputation about it. Grandmas, complicated charts, and quiet clacking of needles come time mind. But knitting has quite the history that comes along with it and has been around since about 1000 CE! And it's not just a hobby to take up in retirement. People of all generations love to knit because it can help you relax, and it even has some health benefits!

Whatever reason for choosing to learn how to knit, this free online knitting class is specially crafted to make your first stitches a breeze.

In this first part, you'll learn the basics of knitting that you need to know before you're ready to pick up your needles. We'll cover your first knitting shopping trip, the yarn and needles you'll need that are the best for beginners, knitting vocabulary, and a quick overview of the mechanics of how knitting works.

For more great projects like this, subscribe to our free email newsletter!
But First:
We've created a booklet with all of the resources you'll need to get started knitting. From knitting needle size charts to a comprehensive guide to knitting abbreviations, the beginner knitting booklet will be your #1 resource for this knitting class.
Knitting Class: Table of Contents
Introduction
Welcome to your first knitting class! This class is designed to teach you how to knit in one evening and to get you started knitting your very first garter stitch scarf.

We will take you from your first yarn shopping trip to the final stitch on your bind off in just 7 parts!

What you'll learn:
Knitting basics, like vocabulary and knitting materials
How to cast on
How to do the knit stitch
How to bind off
How to do the purl stitch
How to fix some common knitting mistakes
How to knit a garter stitch scarf
 
Beginner Knitting Materials
Your first trip to the yarn or craft store to get your knitting supplies can be a bit overwhelming. There are so many different things you need to get started, so much terminology to learn, and so many options!

Here's what you'll need to get started:
Straight knitting needles (size 8-10 are best for beginners)
Yarn (standard, weight 5 yarn is best for beginners)
A crochet hook (yes, a crochet hook)
How to Pick Your First Yarn and Needles
There are so many different knitting needle sizes and yarn types it can be hard to know where to start. Luckily, our friends over at FaveCrafts have put together this handy guide for how to read a yarn label!

Best Knitting Needles for Beginners
We recommend starting with bamboo or wooden needles. One of the biggest complaints that beginner knitters have is that their yarn is sliding around too much. Wooden and bamboo knitting needles will help prevent this and make your first stitches a breeze.

As for the size of the needles, typically beginners start with needles in the 6-10 range. This is the middle-of-the-road in terms of needle sizes, and these will generally be the most comfortable in your hands as you're learning.
Best Yarn for Beginners
The yarn that you choose should match the size of the needles that you have. Above, we mentioned that most beginners start with needles in the 6-10 range. The yarn that best matches the needles you have is pretty easy to figure out. As a rule of thumb:
use weight 3 yarn for 5-7 size needles
use weight 4 yarn for 7-9 size needles
use weight 5 yarn for 9-11 size needles
Note: It's probably best to avoid novelty or super fuzzy yarns for your first few projects as these can make it hard to see your stitches.

There are 8 different yarn weight categories to choose from (0-7). When you're yarn shopping for the first time, to find the weight of the yarn, just look for one of these symbols on the label.

Knitting Vocabulary
Knitting is chock full of complicated terminology, unfamiliar abbreviations, and weird slang. That alone can be enough to make someone stop knitting.

Check out our guide to knitting terms explained to learn the ropes and become fluent in knitting lingo.
The Mechanics of Knitting
Knit Stitches and Purl Stitches
All knitted fabric is made up of two stitches -- the knit stitch and the purl stitch. There are many variations and alterations of these stitches, but all stitches in knitting are, at their core, the knit stitch or the purl stitch.

The first stitch that all knitters learn is the knit stitch; the purl stitch comes later, but it's really just the same as the knit stitch on the opposite side of the needle.

How the Stitches Fit Together
In knitting, you will keep an entire row of stitches "live" on your needles at all times. This just means that, instead of completing one entire stitch before moving on to the next one, you are completing the "live" row of stitches as you are starting the next row.

Anatomy of Stitches
All stitches have two sides -- the V side and the purl bump side. (See the diagram below).

When you make a knit stitch, the V side is facing you and the purl bump is on the opposite side. When you make a purl stitch, the purl bump side is facing you, and the V is on the opposite side. If this sounds a bit confusing, don't worry. It will start to make more sense once you start knitting.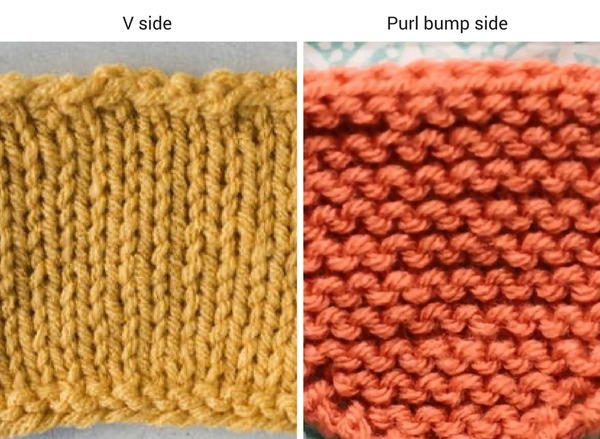 Ready to Pick Up Your Needles in Part 2: Casting On?
Your Recently Viewed Projects