Knitting for Beginners: 9 Free Tutorials
How to Knit for Beginners: 9 Free Tutorials eBook
Get started learning a wonderful new craft!
You've seen your friends do it. You've heard celebrities--Julia Roberts and Amanda Seyfried--gush about it. You know that it's fun and incredibly addictive. What is it? Knitting, of course! Have you ever wanted to learn how to knit? Knitting for beginners can seem intimidating at first, but with the right free beginner knitting patterns, anyone can learn how to knit. We know there are a lot of articles out there showing you the right way to get started knitting. For your convenience, we've put together a group of simple tutorials and free knitting patterns for beginners to make your learning experience less stressful.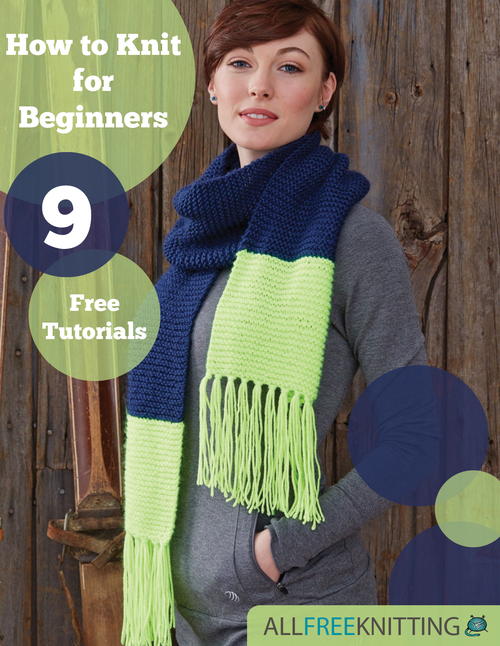 With our free eBook, How to Knit for Beginners: 9 Free Tutorials, you'll find tons of great patterns, tips, and step-by-step instructions that will make picking up knitting a breeze. Knitting for beginners doesn't have to be complicated, especially when you have the right tutorials at your disposal! With just a little time and practice, you'll be knitting like a pro in no time at all--there's really nothing to fear. Are you still a little nervous about trying to knit? Let's break it down a little. Did you know that there are only two stitches you need to know: the knit stitch and the purl stitch? All the other special stitches are created from variations of those two stitches. Isn't that great news? Once you know how to knit and how to purl, you just need to practice with a few easy beginner knitting projects until the motion becomes natural.
Download your copy of How to Knit for Beginners: 9 Free Tutorials eBook today!
Table of Contents:
Dear Knitters,
So you've decided to learn how to knit – congratulations! The free tutorials in this eBook will help guide you through the first steps of your journey. The simple instructions and clear pictures will have you casting on and knitting away. Before you know it, you'll be binding off your first project with pride.
How to Knit for Beginners: 9 Free Tutorials eBook is a perfect eBook for anyone who wants to learn this time honored craft. With step-by-step instructions and tutorials, you will learn all about what it means to knit and purl. With our three free knitting patterns, you'll have beautiful scarves and practical dishcloths that you knit yourself! Whether you want to pick up a fun new hobby or become a master of a rewarding craft, this awesome eBook will help you develop the skills you need to become an avid knitter.
For more free knitting patterns, videos, and tips, visit www.AllFreeKnitting.com.
Happy Knitting,
The Editors of AllFreeKnitting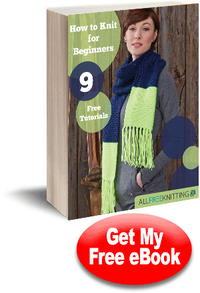 Download your copy of How to Knit for Beginners: 9 Free Tutorials eBook today.
How to Cast On (pg. 12) - In order to learn how to knit, you need to learn how to cast on. After you've learned how to make a slip knot, this easy tutorial will guide you through casting on the foundation for your very first knitting project.
The Knit Stitch (pg. 21) - Once you learn this stitch, you are officially beginning knitting. This step-by-step photo tutorial will teach you how to make the strong ridges of the knit stitch.
How to Bind Off (pg. 30) - Now that you've finished your first knitting project, you'll learn how to bind off your work. Feel the satisfaction of completing hours of hard work by binding off.
Knitting Abbreviations (pg. 51) - Congratulations! You've officially learned how to knit. It's time to move onto your very first pattern. We'll explain the abbreviations and symbols in knitting instructions so that you can tackle patterns with ease.
Bold Beginner Scarf (pg. 66) - In addition to the other two pattern at the end of this eBook, we've added this brand new pattern for you to try. Simple and stunning, this is the perfect beginner pattern.
...and more!
Our eBooks are available as free PDF documents.
For help downloading our eBooks, see our help document here.
Be sure to check out our entire collection of eBooks. You'll find titles such as:
With your free copy of the How to Knit for Beginners: 9 Free Tutorials eBook you can also subscribe to our Knit Picky Patterns newsletter to become part of a helpful and friendly knitting community. In subscribing to the newsletter you will receive:
Six weekly emails with free knitting patterns, tips, collection pages, videos and more.
Chances to win knitting books and products from our weekly giveaways and contests.
New FREE knitting patterns made available to you throughout the year.
Access to our free pattern library full of over 1,000 more free knitting patterns.
The opportunity to share ideas and help others in the knitting community.

With our latest eBook, How to Knit for Beginners: 9 Free Tutorials, you will learn how to knit. Once you start knitting, you will not be able to stop! Subscribing to our newsletter, Knit Picky Patterns, is a great way to become part of the knitting world. You'll see how incredibly rewarding it is to be a part of the knitting community! Check out this free eBook and the AllFreeKnitting.com site to get tons of knitting inspiration!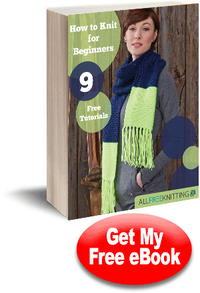 Download your copy of How to Knit for Beginners: 9 Free Tutorials eBook today.
Your Recently Viewed Projects