How to Use Stitch Markers
Using them in a strategic way can make a challenging pattern come together in no time!
Stitch markers can be live savers, especially when you're working on a more complicated pattern. We've all been there. Halfway through a row, and you've lost count. You've noticed a mistake, and you frogged too far down. Knowing how to use stitch markers strategically can make the whole process a little easier!

Some knitters view stitch markers as a form of training wheels for knitting, but this simply isn't true. Even experienced knitters use stitch markers for a good reason; they make your knitting experience so much more enjoyable because you don't have to worry about counting every little stitch. When you're working with complicated knitting stitches, these are your best friend.

There are basically three types of stitch markers -- jump rings and split rings, locking rings, and leftover yarn. Each requires a slightly different method of implementation, but they all get the job done!

Bonus: Even if you don't have real stitch markers, we've gathered ideas from AllFreeKnitting readers below for what to use if you need a stitch marker in a pinch!

Check out this quick tutorial on how to use stitch markers from our friends at AllFreeCrochet!
Why Use Stitch Markers?
Marking the Beginning of the Round
Using stitch markers is great for knitting in the round. Simply place the stitch marker with your first stitch, so you can easily mark the place where you began. You'll thank yourself for this later!

Marking Increases and Decreases
Using stitch markers to mark increases and decreases is a lifesaver, especially if you're new to more complicated knitting patterns. 

Marking Lace Pattern Repeats
Lace stitches can be very frustrating because they're both complex and repetitive. With stitch markers, you can mark the place where the pattern repeats, making these complicated lace stitches a breeze to complete.

Marking Multiple Stitches
One of the best reasons to use stitch markers is so that you don't have to count anymore! Or at least not as much. For very patterns that are more repetitive, this can get exhausting; stitch markers will help you keep your place, so you can enjoy the process more.

Preventing Dropped Stitches from Unraveling
Did you just now notice that you dropped a stitch? Don't worry -- just place a stitch marker through that stitch, and you won't have to worry about it unraveling any further until you have time to go back and repair the stitch.
How to Use Jump Rings and Split Rings
Jump ring stitch markers are a favorite of many knitters because of how easy they are to use and incorporate into the knitting process. You can simply slip the jump rings onto the knitting needles right where you need them and then forget about them until it's time to return to that point in the fabric.

Split rings have a small opening on the side, so you can simply slip them over the stitches that you want to mark; you can also do this with some jump rings, although it can be a little tricky sometimes.

There's no need to worry about trying to fit the stitch marker around the yarn, which could potentially damage the yarn. If you're a knitter and a crocheter, these might not be your best option since they are harder to use in crochet.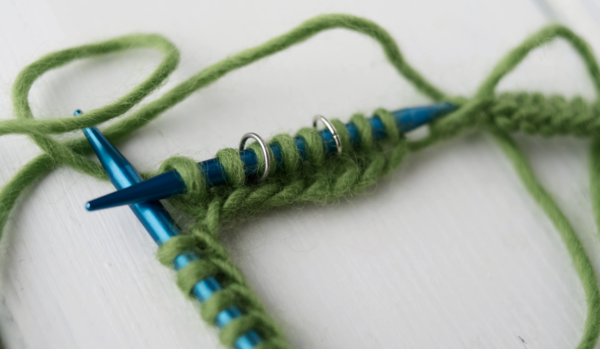 How to Use Locking Rings
These types of stitch markers are great because of how easy they are to use. Locking ring stitch markers work pretty much like a safety pin, but they're plastic, which makes them easy to handle when you're dealing with a lot of yarn. The only downside to locking rings is that they aren't quite as easy to use for knitters as jump rings are.

To use locking ring stitch markers, simply loop the plastic point through the stitch and fasten it on the other side. This can be done to any stitch on your project, and it's particularly helpful for amigurumi projects when marking spots to return to later on.

If you're someone who likes to knit and crochet, having some locking rings around is great because you can easily use them for both crafts.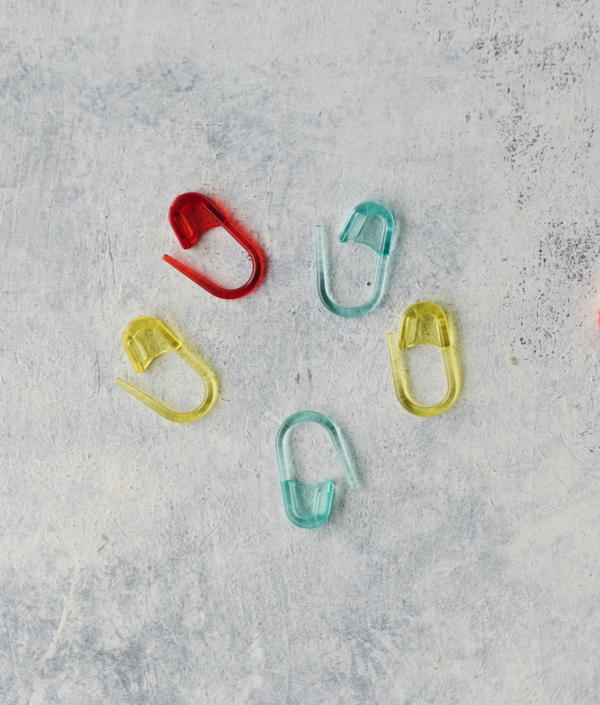 How to Use Scrap Yarn as a Stitch Marker
Stitch markers made out of leftover yarn are probably your best option if you need to make impromptu stitch markers. Everyone has scrap pieces of yarn lying around!

Using yarn as a stitch marker is super easy to do, and you don't run the risk of damaging your yarn or messing up your project while applying them. Yarn is a great alternative for regular stitch markers, especially if you're knitting on the go, although we do recommend using yarn that is a completely different color so that it will stand out.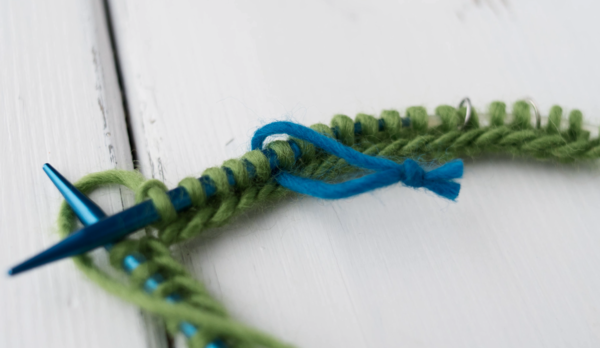 Homemade Stitch Markers
Whether you're new to knitting and just don't have stitch markers yet, or you're knitting on the go, sometimes you need to improvise stitch markers. And the options that you have are endless.

We went to the AllFreeKnitting Facebook page to ask our readers what sorts of items they use when they don't have their stitch markers, and the ideas they came up with seemed practically endless! Here are a few of our favorite ideas for household items that can be used as stitch markers.

Click here to download and print the infographic below!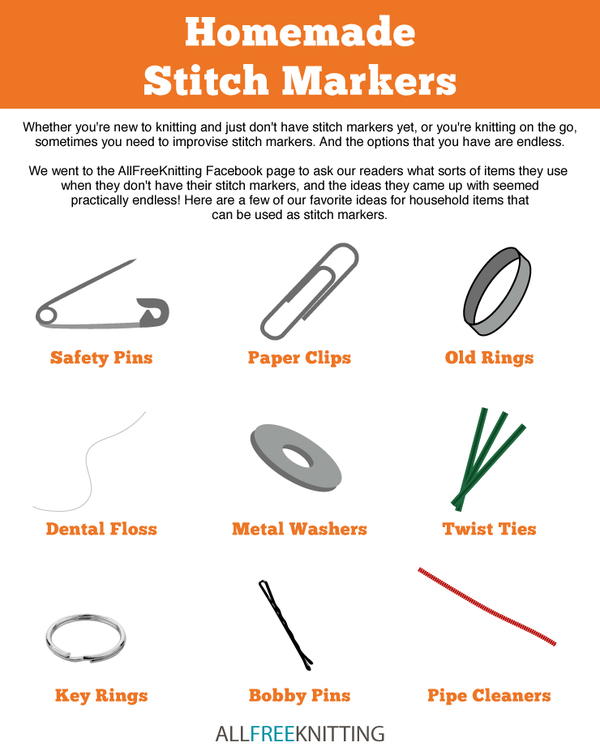 What's the craziest thing you've used as a stitch marker?
Let us know in the comments!
Your Recently Viewed Projects