How Many Stitches Should I Cast On for a Scarf?
Start your next scarf project the easy way. Check out our chart to learn how many stitches to cast on!
Updated December 28, 2022
It's easy to follow a pattern by the letter—pick out the exact size needles and yarn recommended, and cast on according to the directions. It's a bit of a different story when you're flying by the seat of your pants or trying to design your own knitting pattern. Even with simple rectangular shapes such as in scarves, finding out how many stitches to cast on for a scarf can turn into the world's cruelest mathematics exam. How many stitches in a knitted scarf depends on your yarn weight, scarf size, needle size, and more. Read on to find your exact number.

The truth is, as long as you're using the recommended size needles for your yarn weight (and achieving your expected gauge), there is a general range of stitches to cast on to create the perfect scarf for you. All you need to decide ahead of time is the width of your scarf and what kinds of pattern repeats you'll be using in your project. While we always recommend knitting up a gauge swatch to make sure you're on-track, this guide is a good rule-of-thumb for knitters who just want to stop reading articles on the internet and pick up their dang needles, already.

Rather than asking yourself "How many stitches should I cast on for a scarf?" every time you sit down with a new ball of yarn, just download the chart below and refer back to it whenever you need.
But First: Resources for Knitting a Scarf
Readers who are knitting their first scarves are likely on the newer side of knitting, so these resources are going to prove invaluable to you not just with this project, but with your first ten or twenty. Check out the links below to familiarize yourself with all of the necessary terms and techniques:
More Knitting Resources
How Many Stitches Should I Cast On?
Other than the width of the scarf, there are a few variables that need to be taken into account before you can determine that golden number. That's why the chart below offers a range of cast-on numbers per yarn weight and width rather than one solid number.
Yarn Weight
The weight of the yarn you're using for your scarf is the first major concern. Raise your hand if you know what gauge is; yarn weight is largely determined by gauge, which tells you how many stitches per inch knitting with the yarn will yield for you. Two different yarn lines in the same weight will often have a slightly different gauge. Check out our yarn weights guide for more information. The gauge on your yarn label should tell you how many stitches you need for four inches of fabric.
 
Needle Size
Your needle size factors into your gauge, and if you're using needles that are too big or too small for your weight of yarn, you'll get a largely different number of stitches per inch than the label on the yarn predicts. Your yarn label should tell you what size of needle is recommended for your yarn, but if it doesn't, you can check out our guide to knitting needle sizes.
 
Gauge
Ah, the beast itself. Together with your tension, your yarn weight and needle size will determine the gauge in which you'll knit. If you want to be extra sure, you can knit up a gauge swatch to make sure your knitting matches your expected gauge, but the chart below assumes that you're working in the correct knitting needle for your yarn size and achieving the right gauge. Check out this guide to calculating knitting gauge if you can't seem to match your expected guage.
 
Pattern Repeats
If you're looking to design your own scarf pattern or bring the perfect scarf in your head to life, you probably have a specific stitch pattern in mind. The number of stitches that you cast on should accommodate every stitch repeat you use in your scarf. For example, if your pattern repeat for the body of the hat is a 12-stitch repeat, you'll want to make sure that the number of stitches you cast on is a multiple of 12.

Additionally, if you're using a stitch pattern that will curl and plan on combatting that with a non-curling border, you're going to need to add the number of stitches for the borders down the length of the scarf. If that border is going to be garter stitch, that is /all/ you'll have to worry about; if you're knitting something like a 2x2 rib stitch border, however, you're going to want to make sure your cast-on number is also divisible by 4 (the number of stitches in the border repeat). This is another reason we offer a range of cast-on numbers rather than one single number.

If you must add or subtract a couple of stitches from the recommended numbers below, it will not make or break the length of your hat. Just don't take too many liberties, or you likely won't end up with the width you were expecting.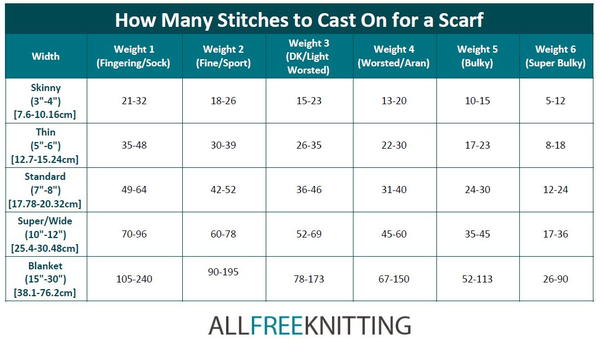 Free projects, giveaways, exclusive partner offers, and more straight to your inbox!
Tags / Related Topics
Your Recently Viewed Projects
Images from other crafters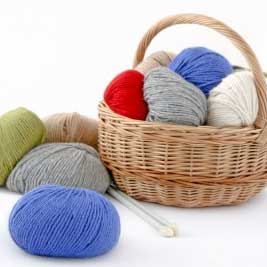 Something worth saving?
SAVE all your favorite patterns
ADD personal notes
QUICKLY reference your patterns