How to Knit in the Round
This guide to circular knitting for beginners has everything you need to feel comfortable with your circulars and DPNs!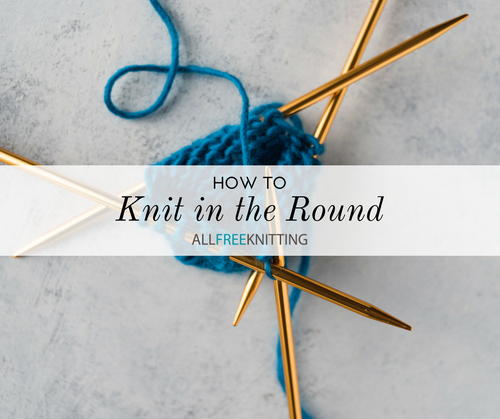 For many beginners, there's just one thing standing between them and that hat pattern they've always wanted to try. A fear of knitting in the round!

Or more specifically, knitting with circular needles and double pointed needles. Once you're comfortable with straight needles, it can be easy to just stick with that, but learning how to knit in the round opens up a whole new world of knitting patterns that you simply can't do on straight needles.

There are essentially three methods of knitting in the round — knitting with circular knitting needles, knitting with double pointed needles (or DPNs), and knitting the magic loop method. They all have their pros and cons, but the most common reason you might choose one over the other has to do with the diameter of the final tube of fabric that you need to make.

Below you'll learn the basics of knitting in the round, everything you need to know before you start your first circular knitting pattern, our favorite method of joining in the round, and tutorials for the three circular knitting methods!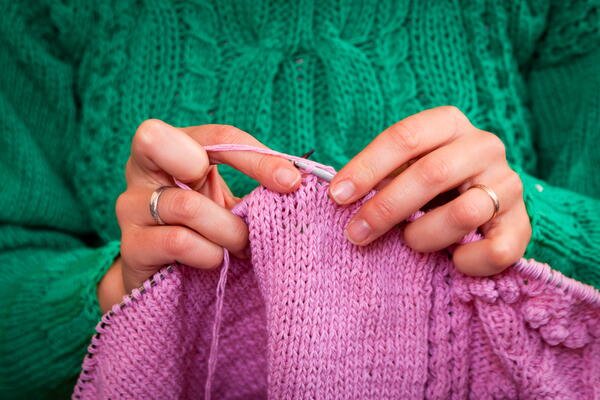 The Basics of Knitting in the Round
You're actually knitting in a spiral. Knitting in the round is sort of a misnomer since you aren't knitting in circles, per se. once you've made your join and you've started knitting your second round, the stitches you're making will stack on top of the old stitches in a spiral formation. If you're doing colorwork or strips in your knitting, you'll notice a little "jog" in the stripes, right where the join is.

Make sure you don't twist! A very common beginner mistake with knitting in the round is twisting the stitches from your cast-on row. It's very important to check that your cast-on stitches are all facing the same direction when you join; otherwise, you'll get a twist in your knitting that can only be corrected by frogging your knitting and starting over completely.

You've got all kinds of joins to choose from. From the simply knitted join to more complicated invisible joins, there are countless methods out there for joining in the round. Below, we'll share our favorite (and the easiest) invisible join!

There are no wrong sides in circular knitting. This can sometimes be a hard thing to wrap your brain around when you first start knitting in the round, but once you've done it for a little bit, it will start to make sense. Because you will never turn your knitting needles to the other side, there will never be a wrong side row in your knitting! For example, if you're knitting stockinette stitch flat, you will knit the right side rows and purl the wrong side rows, but when you're knitting in the round, you will knit every row to get stockinette.
Joining in the Round
There are many ways to join in the round. One thing to remember about knitting in the round is that you're essentially just knitting in a spiral, which means that, unless you work a kind of invisible join, you will get a notch or "jog" in your knitting right where the join is.

Watch the video below to learn how to do this easy invisible join:
 
How to work this invisible join in the round:
Cast on the number of stitches required in the pattern, and then add one more stitch to that total.
 
Take the very first stitch that you cast on and pass it purlwise to the other needle.
 
Then, take your extra cast on stitch and pass it over the stitch that you just slipped to the working needle.
 
Continue knitting in pattern as you normally would.
 
The Three Methods of Knitting in the Round
You've probably seen those scary looking circular needles at your local yarn store. Or spied some DPNs and wondered how you keep the stitches on securely. Picking up knitting in the round is actually very easy if you know the different methods and what they're used for. And if you're even a little bit familiar with these types of knitting needles, you're already halfway to knitting in the round.
Method 1: Double Pointed Needles (DPNs)
Double pointed knitting needles are good for working "medium-sized" tubes, like socks or the sleeves of sweaters. Learn how to use them here:


Method 2: Circular Knitting Needles
If you're knitting something that needs to be a little bigger, like the body of a sweater, an infinity scarf, or a cowl, circular needles are your best option. They can also be used to large flat objects, like knitted afghans. Learn how to use them here:


Method 3: The Magic Loop Method
The magic loop method fantastic for knitters who want to knit in the round but are unfamiliar with the mechanics of it. When you're actually working the magic loop method, it sort of resembles flat knitting, but it is, in fact, circular knitting. What truly makes this method "magic" is that it allows you to knit incredibly tiny tubes, which is great for knitting things like gloves and mittens. Learn this method here:


Patterns for Knitting in the Round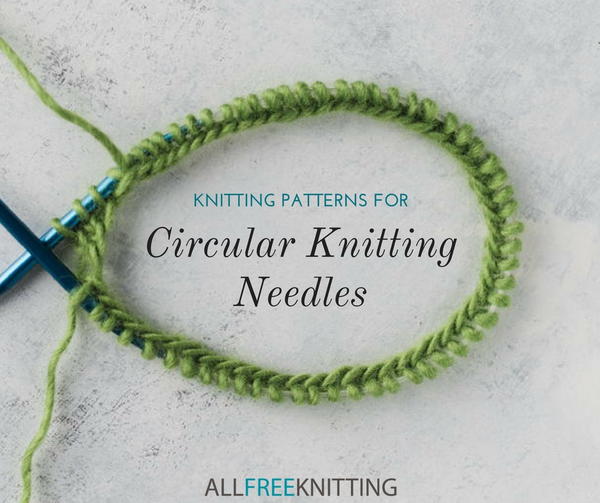 Do you have any tips or tricks for knitting in the round?
Let us know in the comments!
Your Recently Viewed Projects