How to Do the Knit Stitch (Knitting Class: Part 3)
Learn the most fundamental stitch in knitting with this tutorial for how to do the knit stitch!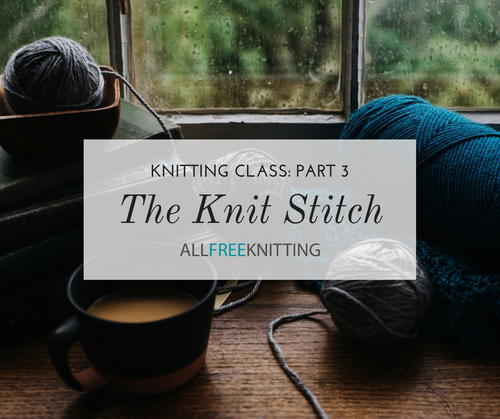 Once you have your yarn cast on to your needles, it's time to get to knitting! In part 3 of this knitting class, you'll learn how to do the knit stitch.

You'll also learn the difference between individual stitches and stitch patterns in knitting, and finally, you'll learn how to do garter stitch. It might sound like a lot, but this is really just knitting in its simplest form. All knitting patterns are just combinations of knitting and purling (which we will learn in part 5). Mastering the knit stitch is half of the battle, and after a few rows, it's very easy to get into a rhythm with it.

As discussed in the last section, the knit stitch has two sides to it -- the V side and the purl bump side. When making the knit stitch, the V side will be the side that's facing you and the purl bump side is on the other side of your work. When you turn your needles, you'll be knitting from the other side, so the V side and purl sides will be swapped, giving you a piece of fabric that's alternating rows of Vs and purl bumps, which is all there is to garter stitch!

In the tutorial below, you'll be learning the step-by-step of the knit stitch and practicing this stitch by making a garter stitch swatch.
Knitting Class: Table of Contents
Individual Stitches vs. Stitch Patterns
Before you learn how to do the knit stitch, it's important to understand what exactly a "stitch" is in knitting.

In knitting, "stitches" refer to two different things -- individual stitches that are made with the needles and stitch patterns that are formed with various combinations of individual stitches.

There are basically two individual stitches in knitting, the knit stitch and the purl stitch. More advanced knitting techniques include variations and combinations of these two stitches, but knitting and purling are at the core of every stitch you will make with your knitting needles. Stitch patterns, on the other hand, come in hundreds of shapes, sizes, and combinations.

Garter stitch is the first stitch pattern that most knitters learn because of how easy it is. Garter stitch only uses the knit stitch, so it's great for beginners and creates a soft and warm fabric that can be used on basically any type of knit item.

Below you will learn how to do the knit stitch and how to start your first piece of garter stitch fabric!
How to Do the Knit Stitch
The knit stitch is the first individual stitch that knitters learn. You will use this stitch in just about every knitting pattern you'll ever knit, and once you learn it, learning all of the variations and stitch combinations will be a breeze!

Watch: In this video you'll learn how to do the knit stitch and start your first garter stitch swatch.
Step 1
Take the needle with your cast on stitches and place it in your left hand. Your other needle will be your "working needle" that you will use to make your stitches.

Note on Terminology: "Working needle" refers to the needle in your dominant hand that you use to make the stitches. "Working yarn" is the strand of yarn that's connected to the ball of yarn.

Take your working needle and insert it into the loop of your first stitch from the left side.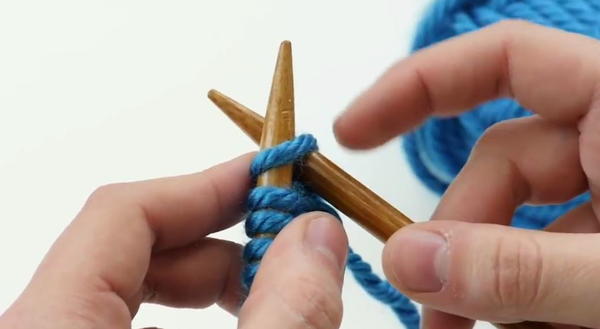 Step 2
Bring your working needle under your left needle to form and X shape with the first stitch wrapping around both needles.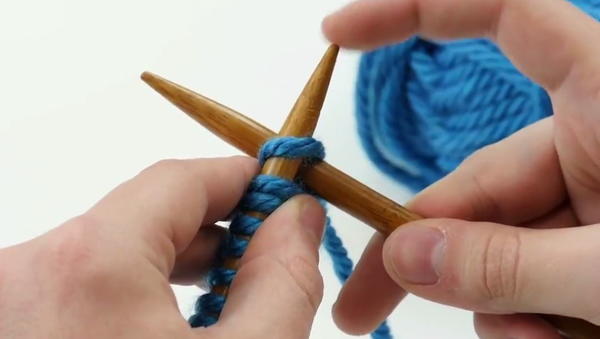 Step 3
Take your working yarn (the yarn that goes to your skein) and wrap it around your working needle. This will be the beginning of your first stitch on the next row.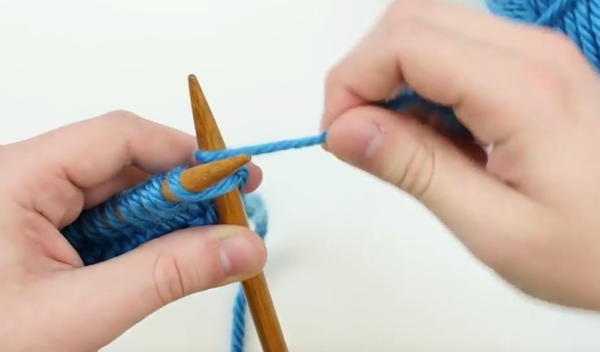 Step 4
Use your working needle to bring the yarn up and through the first stitch.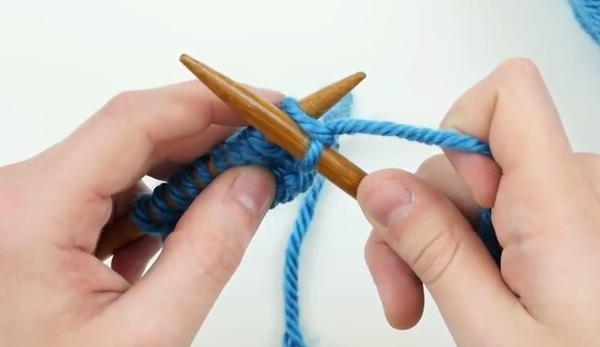 Step 5
Sweep the first stitch on your left needle off the end and tighten. You've now completed your first knit stitch!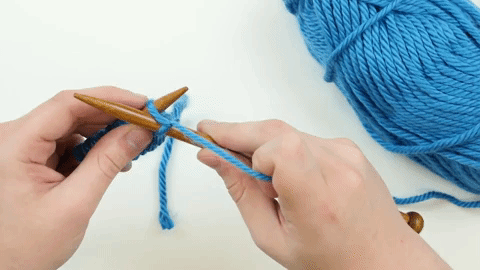 Turning Your Needles
As you knit across a row of stitches in knitting, the stitches are, one-by-one, being transferred from the left needle to the right needle. Once you reach the end of the stitches, your entire row will be on the right needle, and it's time to flip the needle. Some knitters get stuck at this point, but it's really nothing to worry about.

All you have to do at this point is set your left needle aside and then flip your right needle like you're turning the page of a book. Now the needle that was on the right is now your left needle, and you can start knitting the next row.
Practice the Knit Stitch with Garter Stitch
Garter stitch is the ultimate beginner stitch because all you have to know is how to cast on, how to do the knit stitch, and how to bind off. Watch this quick tutorial below for how to do garter stitch!
Ready for Part 4: Binding Off?
Your Recently Viewed Projects