How to Knit a Hat
Learn how to knit a hat with this easy tutorial for beginners!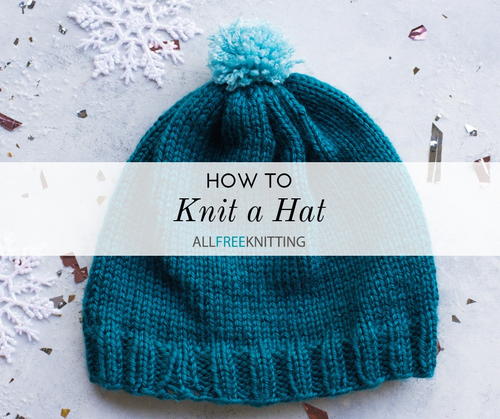 There's nothing better than getting to show off one of a knitted accessory that you've made yourself! But for many beginner knitters, this just means scarves. Most other types of knitted items, like hats and socks, involve knitting in the round, which scares off many beginners.

But never fear! Hats are not nearly as hard as they look.

We've put together this handy guide for knitting your very first hat. It's a simple pattern -- just stockinette and some ribbing. But it will give you a cute, cozy hat that you can work up in no time. Below, you'll find everything you'll need to complete this hat, from video tutorials for the various techniques, tips and tricks for getting your first circular knitting project just right, and step-by-step photos, so you know you're on the right track!

For more great projects like this, subscribe to our free email newsletter!

Quick Note:
If you're new to knitting in the round, there are a few things you should probably know before picking up your needles. There are a few different ways to knit in the round that use different kinds of needles; for this particular pattern, we will be using circular knitting needles.

Want a crash course in knitting in the round before you begin? Check out our complete beginner's guide here — How to Knit in the Round
 
Materials
1 skein of bulky (weight 5) yarn
US size 9 or 5.5 mm, 16" circular knitting needles
Stitch markers
A tapestry needle
A pom pom
Step 1: Casting On
Begin by casting on 80 stitches onto your circular needles, using the longtail cast-on method. The longtail method will give you a nice, clean looking cast on that's stretchy enough to go with the ribbing around the base of the hat but also structured enough to take the wear-and-tear that your hat's brim will receive.

Watch the video below to learn how to do the longtail cast-on method, or click below to get the full tutorial.
Once you've cast on your 80 stitches, go back and count them all one more time. If you don't have the proper number of stitches, your ribbing will not line up properly!

Here's what your cast-on row should look like: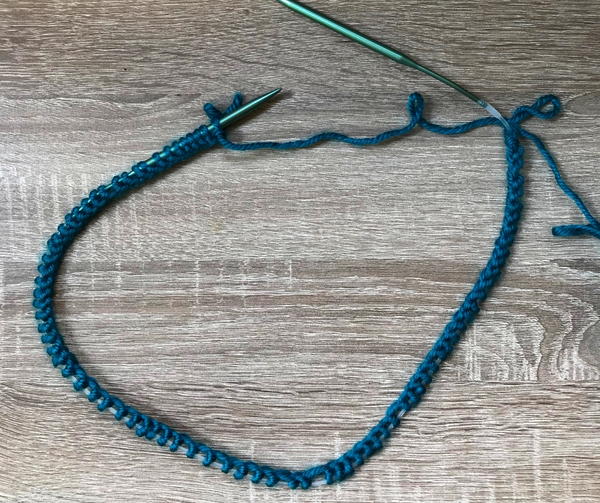 Step 2: Joining
Next, you'll need to join your knitting. There are many different ways to do this, but the invisible join is one of the most common and most visually appealing joins for things like hats and socks.

For this join, you will need to cast on one more stitch for a total of 81. Once you've completed this join, your total number of stitches will have reduced back to 80.

Watch the video below to learn how to do this join, or click below to get the full tutorial.
 
Step 3: Ribbing
Once you've got your 80 stitches cast on and you invisible join completed, you will start the ribbing portion of the hat. The purpose of ribbing is to give the base of the hat a little more stretch, which will help the finished product fit more securely.

This particular rib is a 2-by-2 rib, which aligns perfectly with the 80 cast-on stitches.

How to Do the 2-by-2 Rib:
Once you've joined, place your stitch marker on your right-hand needle. This will mark the spot in your work where each round beings and ends.
 
Next, knit two stitches.
 
Then, purl two stitches.
 
Repeat steps 2 and 3 all the way around your work until you've reached the stitch marker. Now you've completed the first round of your hat!
 
Pass the stitch marker to your right-hand needle and repeat this row until you have about 1 to 1.5 inches of ribbing.
Need A Refresher?
If this is the first thing you've ever knit or if you're picking up knitting for the first time in a long time, you might need a quick tutorial on knitting and purling. Head on over to our
knitting class
and check out the tutorials for how to knit and purl:  
Quick Note:
The number of rows required to get to this point will be a little bit different for each knitter, based on your individual knitting gauge. For me, this took 9 rows.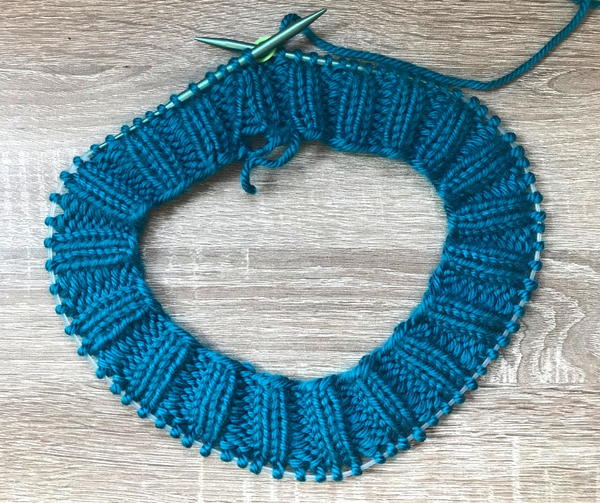 Step 4: The Body of the Hat
Once you've done the ribbing, you've completed the hardest part of your hat! The remainder of this hat pattern is just stockinette stitch. If you're familiar with stockinette, you know it is alternate rows of knitting and purling and can be recognized by its signature "v-stitch" or "arrow" pattern.

Things are a little different for stockinette stitch in the round. Because knitting in the round has no wrong side rows, there is no purling involved. That means you just have to knit all the way around every row!

This part of the pattern is super relaxing. Put on your favorite show, kick back, and do the knit stitch all the way around until you have about 8-9 inches of stockinette!

Quick Note:
For my hat, I did about 8.5-9 inches of stockinette to form the body. The longer you make the body of the hat, the more drape the final hat will have.

Some people prefer this in their hats! That said, if you really want to get some nice drape to your hat to give it that casual look, you should try going up one needle size.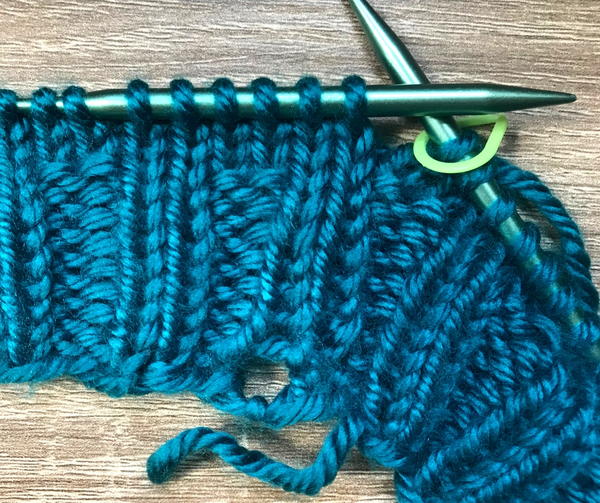 Optional: Get Creative With Your Pattern!
If you're starting to feel comfortable with knitting in the round at this point, you can get creative and add some decoration to your pattern. For example, you could browse our stitch library and find a new stitch to incorporate into your pattern to make your hat truly one of a kind. Cabling is a common way to take hats to the next level.

For the purposes of this tutorial, I have just kept it simple and done a plain stockinette stitch hat, but feel free to experiment with something new if the repetitive knit stitch is getting a little boring; we won't blame you!
Step 5: Finishing
One of the things that makes this hat pattern so great is that there is no bind off! Instead, you simply take your tail of yarn and thread it through the loops of your last row and pull the hat together.

Here's how you do it:
Work your field of stockinette until you've reached the desired length of your hat.
 
Once you've reached the end of your last row, reserve a tail of yarn that's about 1.5 feet long. Cut this yarn and place the rest to the side.
 
Pick up your tapestry needle and thread the tail of yarn through the eye of the needle; tie a simple knot to hold the yarn in place through the needle.
 
Then, with your tapestry needle, pick up your last row of stitches 2-3 at a time. Bring your yarn through the stitches, and sweep them off the end of your needle.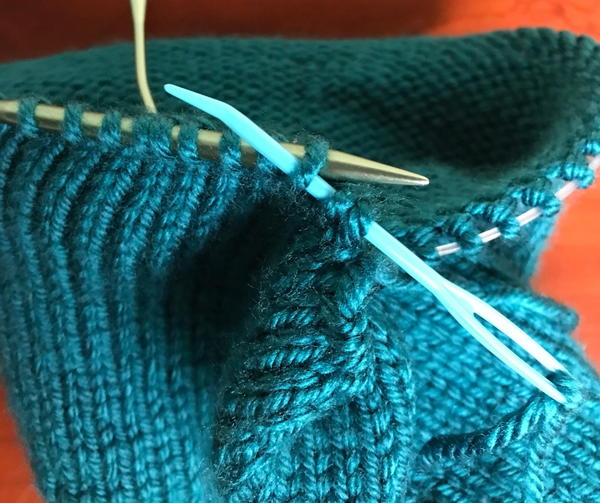 Continue threading the yarn through the stitches and sweeping the stitches off until you've removed every stitch from your circular needles.
 
Set your circular needles aside and pull on the tail of yarn to tighten the top of the hat!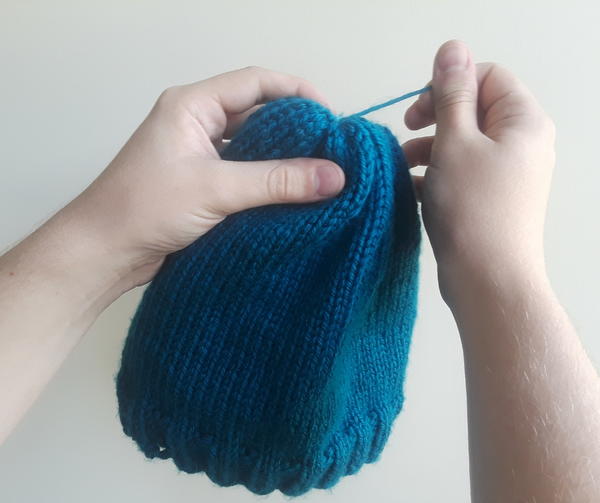 Step 6: Attaching the Pom-Pom
Once you've got your yarn threaded through your last round of stitches and ever stitch off of the circular needles, it's time to attach the pom-pom.

Don't have a pom-pom handy? Watch this video below to learn how to make one yourself from some scrap yarn:
 
Here's how to attach the pom-pom and finish the hat:
Take your tail of yarn from your hat and place it down the center hole of the hat so that it dangles in the middle.
 
Take your pom-pom and find the two extra long pieces of yarn that are dangling from it.
 
Take one of the pieces of yarn and thread it through your tapestry needle.
 
Insert the tapestry needle through one of the stitches of the last row of your hat.
 
Do the same for the other piece of yarn coming off of your pom pom.
 
Pull both of these pieces of yarn tightly so that the pom pom is secured to the hat.
 
Turn your hat inside out so that you can see both pieces of yarn from the pom-pom and also the tail of yarn from the hat itself.
 
To make the pom-pom more secure, bring the two pieces of yarn through stitches on the last row of your hat at least one more time.
Quick Note:
We recommend doing this in a sort of criss-cross formation around the top hole of the hat. This will ensure that the top of the hat is securely in place and that the pom-pom does not move around.
Step 7: Weaving In the Ends
You're almost done! All you have left to do is weave in your ends. You should have four ends in total. Two from the pom-pom, one from the top of the hat, and one from the bottom.

Watch this video below to learn how to weave in your ends:
Congrats!
You've completed your first hat pattern!
Your Recently Viewed Projects