Beginning Knitting Supplies: The Ultimate Knitting Tools List
Check out these knitting materials for beginners and learn how to start knitting with the proper tools at your disposal.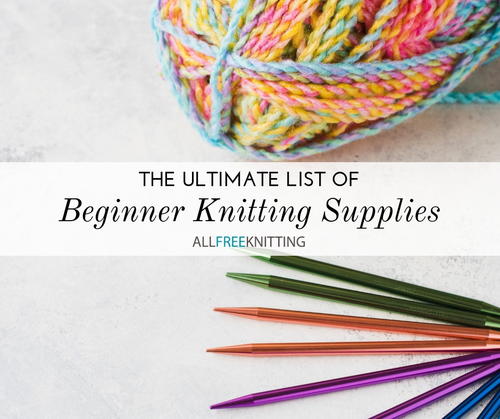 Every great artisan needs a certain set of tools in order to properly execute his or her skill or trade. Painters need paintbrushes and canvases, sculptors need clay and an array of metal tools, and jewelry makers need wire and beads!

When it comes to knitting, it can be difficult to know what you do and don't need when you're first starting out. Sure, you know you need a skein of yarn and needles, but what type of yarn and what type of needles? What other sorts of knitting materials should one procure besides the obvious? And what's all this talk about notions?

Below, we've outlined all the beginning knitting supplies you need in one convenient place.  This ultimate knitting tools list will provide a comprehensive overview of the basic supplies you should have on hand in order to make your knitting journey as successful and enjoyable as possible. Plus, these tools can make knitting a lot easier and that's always a win in our book!

Subscribe to our newsletter for FREE knitting patterns delivered directly to your inbox!
Getting Started
Starting a new hobby is an exciting experience! As a newbie knitter, you may be tempted to jump in the car, head straight to the nearest craft supply store, and buy everything knitting-related you can get your hands on. But hold on a second…it doesn't make much financial sense to go on a fiber-filled shopping spree right away. Instead, give yourself some time to feel out your knitting wants and needs before you start making a bunch of purchases.

Take a few minutes to check out our ideal knitting starter kit and you'll be equipped with the knowledge you need before having to face the seemingly endless aisles of beginning knitting supplies.

1. Large, Straight Knitting Needles
The first item on our knitting tools list is a pair of large, straight knitting needles. When you're first starting out, it's best to start big. Bigger needles and bigger, bulkier yarns are much easier to work with and will potentially save you a lot of frustration in the long run.

US Size 13/9mm straight knitting needles are a good choice. These needles won't hurt your hands the way smaller sizes might when you're just starting out. You may find practicing on circular needles works best for you. You don't only need to knit in the round when using circular needles – you can knit regular items on them – and the shorter size makes them easier to control, so it might be worthwhile to invest in a pair of circulars as well.

Two additional sizes used most often are US 8/5mm and US 10/6mm. We recommended first buying these three sizes and then collecting other sizes as needed.


There are many different types of needles, but if you're looking for a budget-friendly option for your knitting starter kit, we recommended aluminum or plastic. However, keep in mind these materials can be quite slippery and your knitting stitches can easily slip off your needles. According to the experts at marthastewart.com, bamboo or wood needles can be great choices for beginners since they're comfortable and your stitches will not slide off as easily.

As the article states, "Needles are made of different materials, including metal, wood, bamboo, and plastic. The material you choose is a matter of preference, but beginners may like working with wood or bamboo needles, because they are a bit flexible, are comfortable to use, and stitches don't slip off them as easily as they do from metal or plastic needles."

Check out what one of our favorite knitting bloggers had to say about her needle preference: "I think beginners do best starting with a medium weight yarn (worsted is good) and medium size straight needles, maybe somewhere between a US 7 and US 9. Anything too small is hard to see what you're doing and anything too big can be awkward to handle. It's up to you what needle material you prefer, I'm a bamboo lover, but you might have to try more than one brand before you find what you like. But whatever you do, avoid furry or fluffy yarn like chenille, eyelash, or mohair, you need to be able to see your stitches!" – Cassie May, littleredwindow.com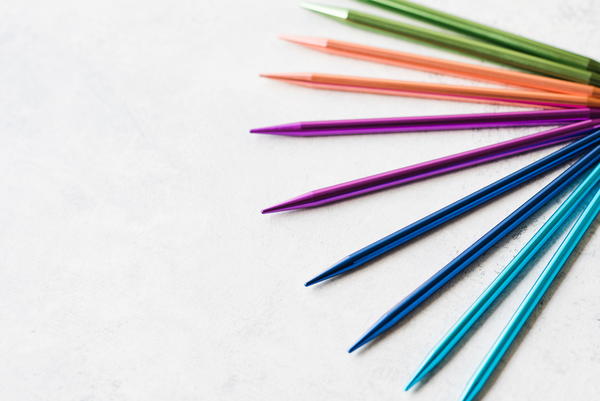 2. Tapestry Needles (aka Yarn Needles)
Tapestry needles are needles with an eye large enough to thread yarn through. These needles are usually plastic (though sometimes metal) and quite inexpensive. Yarn needles do double duty, because they can be used to weave in ends or to stitch seams together, which is nice for certain projects like sweaters.

Keep in mind these needles are easy to lose, so we recommend buying a small container to store them when not in use.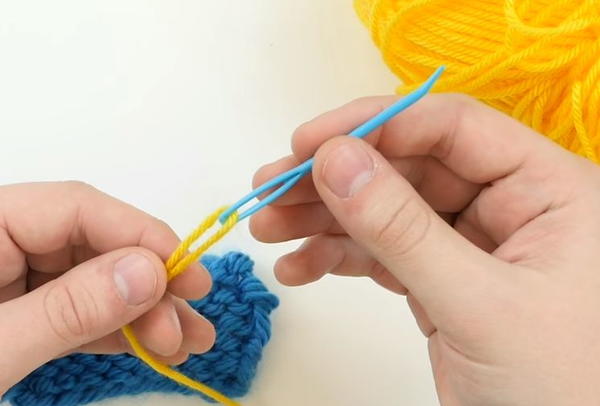 3. A Crochet Hook
It may seem counterintuitive to suggest buying crochet hooks for a knitting starter kit, but hear us out. Crochet hooks can save your knitting on many occasions. The two biggest advantages of crochet hooks are their ability to fix dropped stitches and to weave in ends. Sure, you can do both of these things in other ways, but for beginner knitters, using a crochet hook can be the easiest and most straightforward method.

Consider buying an entire set since different yarns will require different hook sizes. Plus, if you decide you want to take up crochet, you'll already have a head start! However, if you're trying to save money or trying to feel out what you truly do or do not need, a 3-4mm needle works great for most things.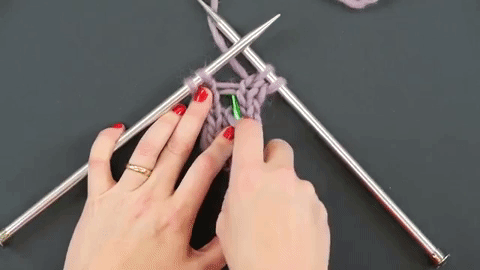 4. Stitch Markers
Stitch markers are a quick and easy way to ensure you successfully complete your knitting projects. Once you knit the stitches of your pattern, place the marker over the stitch you want to remember, and then continue knitting. The marker is simply slipped back and forth between needles while you knit.

Stitch markers are extremely inexpensive and very handy. You can place them on a stitch holder in order to avoid losing them.

So, if you're knitting a scarf that has a specific border design, you can use a stitch marker to remember to knit the border once you come to that point in the pattern. This type of basic knitting supply can save you a lot of aggravation in the long run.

Check out the video below from our sister site, AllFreeCrochet.com, to learn how to use stitch markers.
5. Knit Counters
Many knitters – both novices and beginners – sing the praises of their knit counters. We suggest buying two – one to count stitches (usually when you're increasing or decreasing) and the other to count rows.

As you might already know, there are some knitting patterns where keeping track of your rows is extra important. Some counters slip right on your needles, so you don't need to rifle around in order to change the number. You can also buy a counter designed to hang around your neck.
6. Point Protectors
When it comes to essential knitting tools, point protectors perform two important functions. As the name suggests, point protectors are supposed to be used to protect the points of your needles from becoming damaged when not in use. However, these little guys can also be used for keeping your stitches from falling off the needles when you're not working them.

If you decide to get up and stop knitting, you can put a point protector on the end of the needle that holds the stitches. If you're working on a pattern that takes more than a couple of hours, it's essential to be able to walk away without the fear of losing your work. You can simply mark where you left off with your knit counter and come back to it when you're ready.

In other words, you can rest easy knowing your cat isn't going to knock over the needle and steal your yarn while you're away!
7. Measuring Tape
The type of measuring tape you use will depend on personal preference. Some knitters opt for the kind seamstresses use and others use ones commonly found in a knitting materials kit. A measuring tape is particularly important if you're knitting a scarf, because you will need to measure your work to determine when it has become long enough to bind off.

A measuring tape can also be used to check your gauge. However, keep in mind there are also special tools called gauges which can come in handy if the numbers on your needles ever rub off, because you can check your needle size using a gauge.

Check out what one of our favorite knitting bloggers had to say about her essential knitting materials: "I love to always have worsted weight yarn on hand, size 8 knitting needles and little scissors. I also love having a measuring tape close at hand!" - Jessica Potasz, mamainastitch.com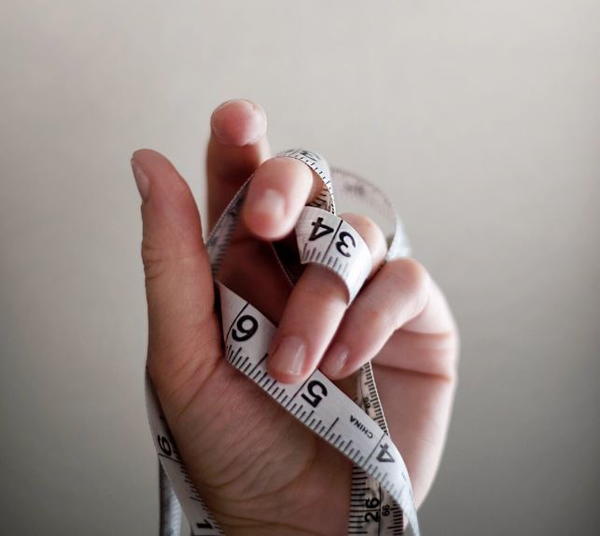 8. Scissors
When you think of knitting materials for beginners, a pair of scissors might not be the first thing that comes to mind. We all have scissors lying around the house, right? Well, it's a good idea to keep a pair specifically with your knitting supplies for easy access. You don't want to go hunting for your scissors every time you work on a project.

Your knitting scissors don't have to be anything fancy, though a child-proof pair probably won't work because they're too blunt. A small pair you pick up at a craft or big box store will work just fine.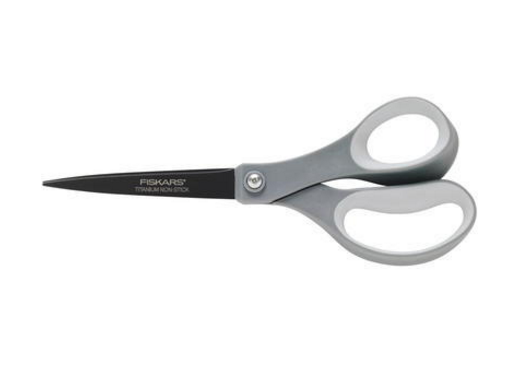 Essential Knitting Tools Will Take You Far
Here's the bottom line: when you're learning how to start knitting, there's no need to go overboard on supplies. You're going to learn a lot as a knitter, including what type of needle you like to use and what notions are most useful. Don't go crazy and overbuy when you first start knitting.

"I bought a book on "how to knit", some worsted weight yarn and a few different sets of knitting needles.  These seemed like the "new knitters" essentials." - Jessica Potasz, mamainastitch.com

As you knit more and more, you'll discover what feels right and most useful to you. Experiment with different types of needles, check out fellow knitters' notions, and see what you prefer before dropping a huge chunk of change on knitting materials you may never use. "I bought whatever was cheapest at my local craft store because I was in high school/college and broke!  I used whatever brand of yarn was on sale and had the best colors, bought whatever size cheap needle it showed on the label, and funnily, since this was before the internet, I bought a black and white pamphlet that had diagrams showing how to knit (and crochet, it was the DELUXE pamphlet!) I had NO idea how gauge worked so I mostly made blankets and scarves in garter stitch. But hey, that's how we all start!" - Cassie May, littleredwindow.com

Just as a painter has a preferred brand of paint and a sculptor has a favorite shaping tool, soon you will also develop a preferred set of materials as you navigate the exhilarating journey from beginner to advanced knitter.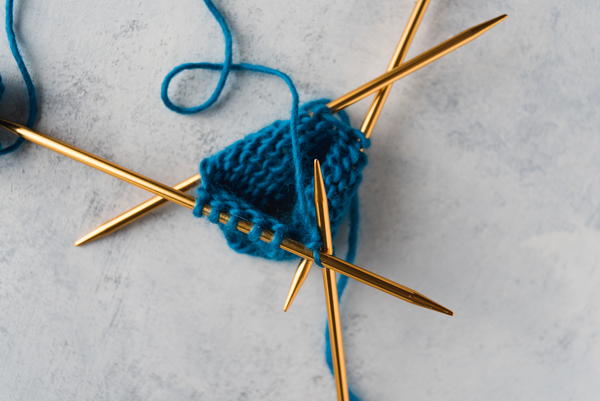 Beginning Knitting Supplies Shopping List (PDF)
New knitters need new supplies! If you are looking to learn how to knit, you are going to want to make sure you have an essential knitting tools list before you head to the store. With so many types of needles, yarns, and more, it can be tough to know what to buy. To help out all those knitting newbies, we have compiled this list of the most basic knitting supplies in one, downloadable PDF. This printable knitting supplies list will help you make sure you have the right size needle and yarn to start your first project.

Note: This supplies list offers suggestions for the best knitting needle size and yarn weight to use when you first begin to knit. These larger needles and uncomplicated yarn will be easiest to work with as you begin to knit and purl your first project. It is still important, however, to make sure these needles and yarn type match the materials on your first pattern. 

Click here to download AllFreeKnitting's Essential Knitting Supplies List (PDF).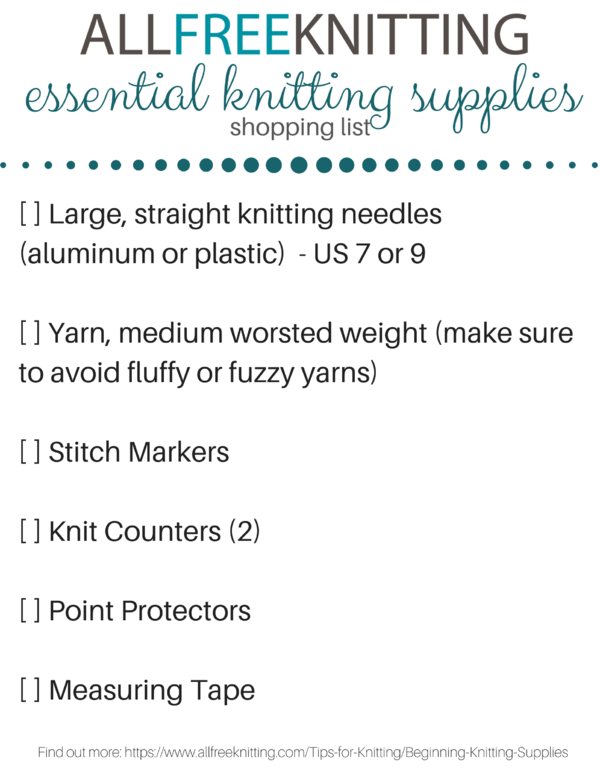 Your Recently Viewed Projects