What is Viscose Yarn? + 24 Knitting Patterns
Learn all about the viscose yarn properties so you can use your skein to its fullest potential.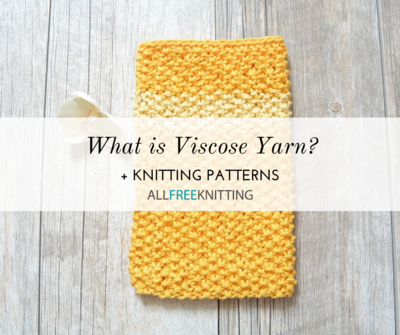 The longer we knit, the more fiber types we start to notice on the skeins of yarn that catch our attention. Wool, acrylic, tencel, cashmere... what are we to make of all of these different kinds of fibers, and, more importantly, does it matter? Different fibers are better suited for different purposes due to their unique qualities. Some fibers are cheap and hardy, others are warm and moisture-wicking. Some are derived from animals or plants, and some are manmade.

Viscose falls somewhere between 'natural' and 'manufactured.' Some American knitters out there may better know viscose as rayon, which is mostly true. Viscose is derived from trees (more specifically the cellulose), so you would think this was a natural fiber along the lines of bamboo or cotton, but the process of manufacturing viscose yarn involves a whole lot more chemicals and interference for that to be true.

What are the Viscose Yarn Properties?

Viscose actually behaves quite a bit like cotton, as it's very absorbent and breathable. This along with its lightweight characteristic and hardiness makes it a great fabric for warm weather wear. Since it's so cheap to produce, it's cheap to the consumer, as well, but it won't be very helpful for people who are concerned with staying warm, because it does not insulate well. People who live in warmer areas will find viscose is their best friend, but people who live where there are harsh winters and mellow summers, or people who are more concerned with the environment, may use this fiber less.

What Can I Knit With Viscose Yarn?
Table of Contents
Your Recently Viewed Projects