24 Bamboo Yarn Patterns to Knit
There are so many benefits to knitting with bamboo yarn, and so many gorgeous patterns you can make!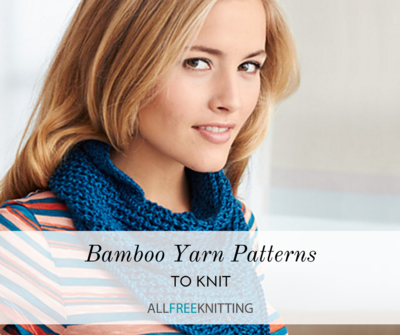 The vegan or environmentally-conscious knitter should be familiar with bamboo yarn. Since bamboo, unlike cotton, grows again from its own roots, it requires less care, attention, and resources to grow, making it a more sustainable option. In addition, since it's a fully vegan fiber, those with an aversion to animal products will find that bamboo yarn, unlike silk or wool, is a strong alternative. There are some bamboo yarn patterns that specifically call for this kind of fiber, but even if a pattern doesn't, there are a few guidelines to tell if bamboo yarn is best suited to your next project.

Like many items made from bamboo, the yarn is known for being incredibly durable. You would think that might make it coarse and uncomfortable, but every bamboo yarn I've ever touched has been silky smooth to the touch with a gorgeous shine. This sort of yarn is best suited for warm-weather projects, as it's not incredibly insulating like wool, but is rather lightweight and breathable. You'll find that bamboo yarn lends itself best to delicate summer wearables and accessories, but, as always, the world is your oyster and it's your prerogative to knit whatever you want out of your new gorgeous skein of bamboo yarn.
Table of Contents
Your Recently Viewed Projects