Stockinette Stitch Knitting: 52 Free Knitting Patterns
Easy knitting patterns for every area of your life!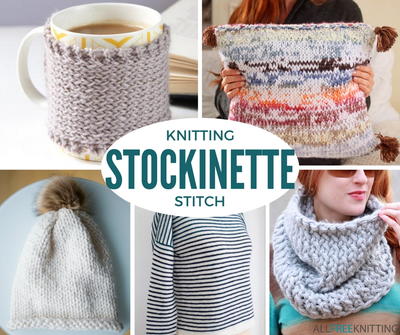 If you're stuck knitting the same patterns over and over again, it may be time for a project overhaul. The Stockinette Stitch Knitting: 52 Free Knitting Patterns collection gives you just what you need. Whether you've just learned to knit and purl or you just want an easy knitting pattern to create something new, these stockinette stitch patterns will be the perfect addition to your knitting life. The great thing about stockinette stitch knitting is that the stitch is not hard, but it also gives you more variety than the basic garter stitch. When knit flat, stockinette stitch is a simple alternation of knit and purl rows. In the round, you get stockinette stitch by a continuous knitting pattern. Learning to knit stockinette stitch will open up a lot of patterns to your fingertips.

This collection of patterns ranges from hats to blankets to pillows, which guarantees you will find something you will love to make. Spice up your home or your wardrobe with these great knitting projects. Any of these patterns can also be made as a thoughtful gift, since everyone loves to receive something hand-knit with love. Brush up on your knit stitches and purl stitches, then start these wonderful knitting patterns. 
Table of Contents
What is your favorite knit stitch?
Your Recently Viewed Projects