30 Merino Yarn Patterns to Knit
Is merino wool yarn the right choice for your next project? Read on to find out!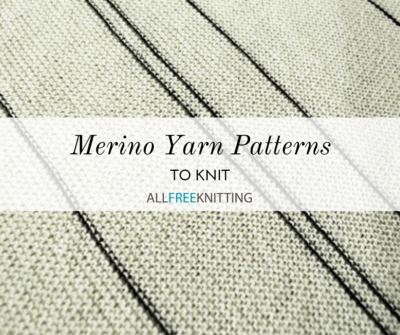 There's a reason that wool stands the test of time among knitters everywhere as a favorite fiber. It's extremely insulating, moisture-wicking, and comes in so many interesting varieties that it simply can't be beat by most other fibers for the price. However, variety can (and does) complicate things. When you have one gorgeous skein of yarn that reads "merino wool," what does that mean? How is it different from that other skein of yarn in your stash that says "highland wool?" What should you choose? The key to deciding what to knit with merino yarn is knowing exactly what makes it different.

What is Merino Wool?

Wool is typically named for the animal or breed of animal from which it is derived, so you'd be unsurprised to learn that merino wool comes from the Merino sheep. Its wool is known for being fine and soft, but don't let the name on the skein fool you. Just because fabric is called "merino" doesn't mean that the wool was taken directly from a sheep bred for its wool. Wool taken from any Merino sheep, even those bred for meat, is technically merino wool, so you may not find the quality is always on-par. I always recommend researching the yarn maker before any pricey purchases. You can often find more information on the wool source on the yarn maker's website.

Merino Wool vs. Wool

If you are lucky enough to find merino yarn that was taken only from sheep bred for their wool, you'll find it to be impeccable. Compared to other sheep's wool, it tends to be finer and softer, and therefore more comfortable against the skin. Do bear in mind that wool from other animals, such as cashmere from goats or alpaca wool from alpacas, may produce a more luxurious-feeling fabric, but if you find yourself with a choice between merino, Peruvian or Peruvian Highland, Shetland wool, or any other sheepish variety, you'll find the quality of merino to be worth the price.

Is Merino Wool Itchy?

The range of sensitivity to wool is vast. What's very comfortable to wear for some can be unbearably itchy for others, and doubly so if that person has a wool allergy. That said, the micron size (or diameter) of the fibers in merino wool is extremely low, when the wool is taken from sheep specifically bred for shearing. The lower the micron size, the softer the wool. When it comes to itchiness, while this isn't a hard-and-fast rule, you typically get what you pay for, and high-quality merino wool is likely to spare you the itch.

What Can I Knit With Merino Wool?

For the reasons listed above, you're not encouraged to waste your precious merino wool yarn on knits that you're not going to drape over your skin or wear for luxurious warmth. I'd advise against knitting up any sort of home decor, toys, or even blankets, for that matter, with merino wool. Instead, you're better off sticking to accessories and wearables. Just be sure to buy yourself a decent wool wash with which to gently clean your merino wool knits, since you can't just chuck them in the wash with your tees and socks without some serious felting and shrinking.
Table of Contents
Your Recently Viewed Projects