36 Free Knitting Patterns for Tweens
If you're finding it hard to find free knitting patterns for 12 year olds (and more!), we've got you covered.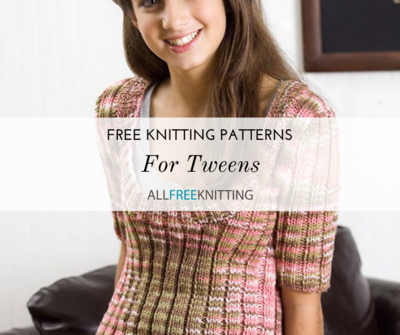 If there's one age group in this world for which it's difficult to find good knitting patterns, it's the tweens. Falling between the ages of 9 to 12, these kids are at that awkward (yet incredible!) point in their lives where they're too big for the standard children's clothes, but can't quite fit into the teenage and adult fare yet, either. As a result, they can either deal with their clothes being far too baggy... or be lucky enough to have a knitter in their lives to make something special for them that actually fits.

These 36 Free Knitting Patterns for Tweens are either designed exclusively for preteens, or include size variations in the original pattern that can accommodate someone aged 9 to 12. For this reason, should you see a rather young or rather old child in the picture of the pattern you're eyeballing, don't be concerned, because the pattern certainly comes in different size versions. Be sure you're following the right one as you read through the pattern, and you're bound to have some knitting patterns for tweens that they'll love! Whether you're knitting for girls or looking for knitting patterns for boys, there's something for everyone in this list.
Table of Contents
Hat Patterns for Tweens
No knitting parent or grandparent forgets the first time their child asks them to knit something, and that 'something' is quite often either a hat or a scarf. It's nice when your skills are appreciated! More than that, it seems so many hats out there that fit tweens are bland or too childlike. These knit hat patterns are perfect for the preteen in your life.
Scarves and Cowls for Tweens
The best part about scarf and cowl knitting for tweens is how easy it is to get this right. Truly, most patterns that you can knit for an adult can fit on a preteen, or at least be easily altered to be a bit shorter and therefore not fully suffocating to your kid.
Cardigan Patterns for Tweens
Cardigans and sweaters are where things start to get sticky. It's these kinds of patterns where knowing what size you want while knitting for tweens is exceptionally important. While some kids like the baggy or too-tight look, most will want their clothing to fit properly, so you can't just settle for a pattern for adults or teens.
Sweater Patterns for Tweens
These pullover patterns for tweens are ideal for winter to spring, when your preteen is bound to not dress as warmly as he should be and will use the excuse that he "doesn't have any sweaters to wear." While you obviously want this sweater to fit your preteen, we recommend knitting it with a little bit of give so it will fit for at least a couple of years.
More Patterns for Tweens
Maybe it doesn't make sense to knit your tweens a coffee sleeve or wine cozy, but they certainly could use more than just hats and sweaters! Not only are there plenty of accessories you could knit for your preteen, but also some tech gear to consider. Below are just a few examples of great tween knits.
Your Recently Viewed Projects