13 Top Down Sweater Knitting Patterns
These beautiful sweater knitting patterns take the easier, top-down route!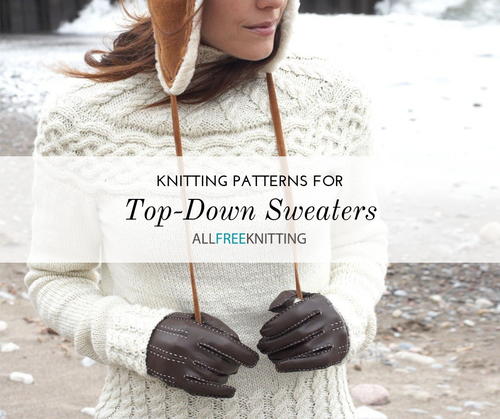 Have you ever finished a knit sweater pattern you had been working on forever only to discover that it doesn't fit at all? Maybe it's not quite long enough and keeps riding up in the back; or maybe it's too tight in all the wrong places.

Since everyone isn't built the exact same way, general knitting patterns can only get you so far. Sometimes, you just have to tweak your favorite knit skirt or knit sweater patterns just a bit to better fit your body type. There's nothing wrong with that! However, knitting from the bottom up can make it a bit difficult to add in decreases and increases to the pattern to make the fit more tailored.

This is where the top-down knitting method comes in.

With top-down knitting, you don't have to wait until the end to figure out what parts of the pattern don't work for you. You can just make all of the necessary adjustments while you work and bind off on a beautiful knit that actually fits! It's really a win-win for you. After all, you can try on your garment before it's even completed. What better motivation to finish a long-term knitting project than actually knowing beforehand that it's going to look good on you when you bind off?

For more great projects like this, subscribe to our free email newsletter!
Your Recently Viewed Projects