25 Free Chevron Stitch Knitting Patterns
Chevrons have been all the rage in the knitting world -- and for a good reason! Check out the lovely chevron knitting patterns below.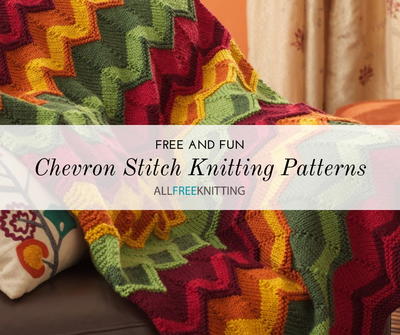 Once you get to be more comfortable with your knitting, it's time to venture out into the many different pattern formations the wonderful world of knitting has to offer. Or course, there's the garter stitch pattern and the stockinette pattern which you probably already know. But what about the seed stitch pattern, the embossed diamonds pattern, or even the basketweave pattern?

All you have to do is get your knits and purls down, and you're well on your way to tapping into all of the best-kept knitting secrets and creating knits that are even more unique to you.

One of the more enjoyable patterns (to me, at least) is the chevron stitch. Created through the alignment of the increases and decreases in a pattern, the chevron stitch pattern produces quite the unique little design filled with ripples and waves sure to add a fun element to anything you knit. Knit hats, scarves, and blankets take on a whole new look just by switching up your knitting style a bit. Adding colors into the mix only makes things that much better.

With chevron stitch knitting (as with every other kind of knitting), the possibilities are simply endless.

For more great projects like this, subscribe to our free email newsletter!
Table of Contents
Your Recently Viewed Projects