18 Cashmere Knitting Patterns
When you have cashmere yarn for knitting, you should use it on only the finest of patterns.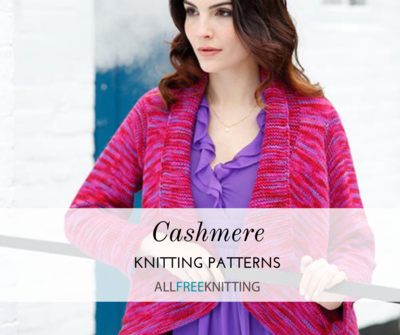 If you're a lover of fine fibers, you're probably paralyzed with indecision when you find yourself with a high-quality skein (or five) in your stash. Cashmere, a truly luxurious and absurdly expensive sort of fiber, can't be wasted on just any sort of pattern. Cashmere knitting patterns should take advantage of the uniquely warm, lightweight, and soft fiber, and there are certain kinds of patterns that will help you make the most of your yarn. To understand, however, the best way to use your cashmere yarn, you have to understand what makes cashmere so special.

Why Cashmere is So Expensive

Like any other fiber, the quality of cashmere can differ, especially if you've found yourself with a skein that isn't 100% cashmere. Be on the lookout for quality cashmere for knitting from India to know that you're getting the real deal. If, however, you've snagged yourself a pure cashmere skein of yarn, you've probably noticed it's much pricier than your run-of-the-mill ball of wool yarn. Like much of economics, this largely comes down to supply and demand. While sheep can produce over five pounds of wool per year, the cashmere goat will only produce less than half a pound, and even less is usable once it's brushed and cleaned.

Is Cashmere Warmer Than Wool?

With such a hefty price tag, one would hope that cashmere would be warmer than wool, and one would be correct. Not only is cashmere about eight times warmer than lambswool, but it's lighter and softer, giving it an added benefit. Since it's so light, it's more easy to wear in warmer weather as a layering piece, making it a truly versatile fiber. This is due to the fact that the cashmere goat itself lives in conditions with harsh summers and freezing winters, so its hairs must be insulating, yet light.

Alpaca vs. Cashmere

The fineness of cashmere is, on average, measured at 14-16 microns, but can range in alpacas from 15-45. What that means is that, as soft and luxurious as alpaca feels, it's still, on average, a coarser and rougher fiber than cashmere. Alpaca wool became something of a response to the devaluing of cashmere for knitting with its mass production outside of India.

Is Cashmere Durable?

Short answer? Yes. Long answer? Like with any other natural fiber, if you take good care of your cashmere knits, it should last you many years to come. Just try not to snag it on anything, and be sure to hand-wash and lay flat to dry anything that you've knit with cashmere yarn. If you take care of your cashmere knits in this way, you may never see the end of them.

Without further ado, check out some of the best ways to use your cashmere yarn.
Table of Contents
Knit Sweater Patterns
If you're lucky enough to have enough balls of cashmere yarn to knit a sweater, it's easily the best use for the immensely soft fiber. The lightweight, yet ultra-warm, quality of this yarn will help keep you cool in the hot months, but toasty in the warm months. Whatever sweater you make with your cashmere yarn is bound to be your new favorite.
Knit Cardigan Patterns
Another amazing use for cashmere yarn is on the cardigan; like with sweaters, cashmere yarn will help regulate your body temperature, which also makes it an excellent layering piece. Since this fiber is so soft to the touch, it's ideal for close-to-skin garments such as cardigans.
Close-to-Skin Accessories
If you don't have quite enough skeins of cashmere yarn for a sweater, your next best bet is any close-to-skin accessory which you may typically avoid itchy wool. Scarves and cowls are great consideration, but people also love cashmere for gloves and mittens, where the itch of wool would, at its worst, make them unbearable to wear.
Your Recently Viewed Projects