21 Tips for Organizing Your Yarn Stash (and Other Knitting Supplies)
Our best tips for keeping your yarn organized for easy knitting!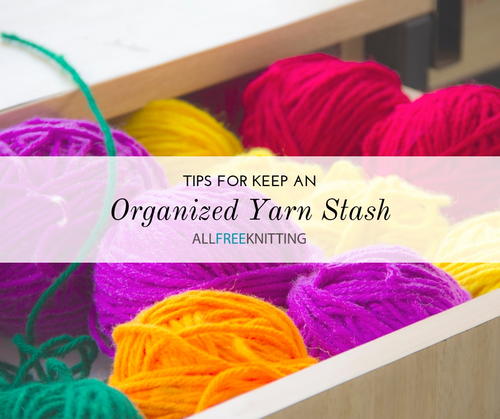 One thing that I'm confident knitters would agree on is this: knitters love to buy yarn - and lots of it. Whether your favorite yarn is on sale or you just get carried away at a consumer yarn show, it's hard to say no to buying beautiful yarn!

But that's not the hard part; buying yarn is easy. The challenge is figuring out how to neatly store your fiber without letting it take over your home. Luckily there are some tips and tricks for doing this creatively!

Since spring is a great time to start cleaning and organizing, we asked our amazing Facebook fans for all of their best tricks and tips for yarn stash storage at home. I hope you enjoy all of their insights and wonderful ideas.

Together, we can all learn how to organize the craft room and how to finally get a handle on our ever-growing yarn stashes.
Tips for Yarn Stash Storage:
Get a grip on your yarn stash and try out some of these awesome tips for yarn stash storage below.  Learn how to keep current projects organized and accessible, and how to make your yarn collection as neat and tidy as a yarn shop display.
Keep your yarn organized by storing it in big scrap booking boxes.
 
Use the nylon mesh netting that onions come in to store yarn.
 
Stash your yarn in clear labeled totes, separated by color.  Contrasting colors can go together, e.g., yellows and browns in one tote, black and reds in one, blues and pinks in another, etc).
 
Use plastic bags to group together similar color yarn and store them in large, 35-gallon totes (like Rubbermaid).  Keep any leftover yarn or scraps together in another tote, to be used for a future projects or repairs.
 
Keep current projects organized by storing them in separate mesh bags (or produce bags) inside a larger basket.
 
Sort by yarn type (wool, sock, cotton, etc.) and then place them in clear vacuum-sealed bags.
 
To stay organized without sacrificing style, try keeping yarn stored in a woven basket.  For smaller supplies and books, use a wooden keepsake box.
 
Keep WIPs (works in progress) in reusable grocery totes for easy access.
 
If any of your stash yarn was bought for a specific project, staple a hard copy of the pattern onto the yarn label. This way, you'll remember why you bought the yarn.
 
Clear plastic salad boxes are great for storing yarn - they stack well, are transparent, and can easily fit underneath the bed.
 
Decorative hat boxes, hanging sweater organizers and canvas bags are also great for storing yarn.  For works in progress, use the clear plastic casing from a comforter to keep them in order and handy.
Tips for Organizing Needles and Other Knitting Supplies:
Ever wonder how to store those smaller supplies, like scissors and double pointed needles?  This collection of tips has tons of great ideas, including homemade needle organizers, labeling ideas and more.
Keep double pointed needles together with baby hairbands or small rubber bands. Tuck a post-it note underneath the band that shows the different sizes.
 
Keep straight needles banded together, organized by size.
 
Organize double pointed needles (DPNs) using pint-size Mason jars. For taller needles, use quart-size Mason jars. Circular needles can be stored in individual sleeves of a single disc CD case, and any smaller items, like crochet hooks, large eye needles, small scissors, measuring tape and stitch markers, can be stored separately in a smaller basket.
 
Try storing DPNs in labeled pencil boxes. When not in use, simply keep the boxes stored in a dresser drawer for easy access.
 
Make your own needle holder using a paper towel roll covered in contact paper.
 
Store knitting needles in labeled Zip Lock bags.
 
Use a small three-drawer organizer to separate straight needles, circular needles, DPNs and crochet hooks.
 
Protect and store knitting books in a plastic container with pull out drawers.
 
Use a three-ring binder with labeled plastic sleeves (include needle size and length) to store circular needles. Straight needles can be rubber banded together in cardboard mailing tube.
 
Store notions in a Clinique bag or other small zippered bag, and keep smaller items like sewing needles and point protectors in transparent pill bottles.
Free Knitting Patterns to Help You Get Organized:
In addition to the great tips shared above, this collection of free knitting patterns is also a wonderful way to keep things tidy.  You'll find patterns for needle holders, zippered pouches and more!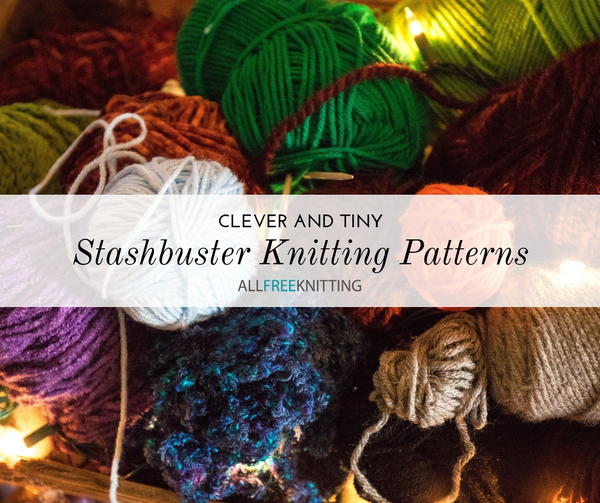 Your Recently Viewed Projects