23 Super Cozy Knit Sweater Patterns
Check out these free sweater knitting patterns and take your cold weather wardrobe to the next level.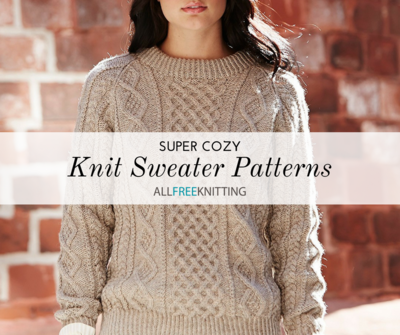 At the end of a long autumn day, fewer things feel better to me than curling up in a chunky knit sweater and reading one of my favorite books. Aside from their ability to make me feel my coziest, sweaters are also a staple piece in any wardrobe, especially during the fall and winter.

Whether you keep it simple — wearing only muted shades of black, gray and cream — or if you enjoy making bold statements with vibrant reds, yellows and oranges, sweaters are great for mixing and matching, dressing up and down and for staying warm during the coldest months of the year.

That's why as a special treat to our readers, we've rounded up 23 Super Cozy Knit Sweater Patterns. Enjoy this collection of autumn favorites that are perfect for everything from relaxing at home on a lazy Sunday afternoon to apple picking outdoors with family and friends.

When it comes to these patterns, the hardest part will be deciding which cozy knit sweater to work up first. With so many beautiful options to choose from, your autumn wardrobe will be the envy of all those around you. Plus, the versatility of knit sweater patterns makes them an ideal choice for a variety of situations.

Sign up for our daily newsletter to receive more amazing FREE patterns delivered directly to your inbox!

Before you get started on any of these sweaters, learn the basics of knitting a top-down sweater with this video on how to knit raglan sleeves.
Table of Contents
Colorful Knit Sweaters
What fun is wearing autumn attire if you don't allow your clothes to reflect all of the glorious shades found in nature? Different textures, colorwork, and stitches abound, allowing your knitting and wardrobe to be as varied as possible. You will love how these work up and feel!
Extra Cozy Knit Sweaters
For days when you long for comfort, this group of relaxed-fit sweaters is just what you need.  These knit sweater patterns will have you ready for the cold weather in no time. Don't worry about what you will wear the next time the temperature plummets. These sweaters will be comfy and cozy for any autumn day!
Chunky Knit Sweaters
Some days, the only cure for getting rid of a chill is to put on a super chunky knit sweater.  Made to move with your body, this selection of sweaters in bulky weight yarn is meant for cozy comfort.  From colorful options like the Berry Crumble Cardigan, to classic sweaters like the Cozy Collared Cardigan, you'll be all set for fall with these fine patterns.
Knit Chunky Cable Stitch Video Tutorial
Think you want to try your hand at some of these beautiful sweaters? Some of the most snuggly, warm sweaters are made using cables, so watch this video to learn how to make cables with chunky yarn!


Your Recently Viewed Projects