40+ Free Scarf Knitting Patterns
These knit scarf patterns and knit cowl patterns are perfect for every season and every occasion.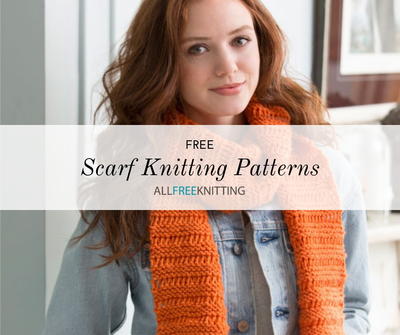 You've thrown on your best blouse and jeans, but one thing is missing: a scarf. No matter what the season, there's the perfect free knit scarf pattern to top off your outfit. Whether you're a beginner knitter or you just enjoy easy scarf knitting patterns for beginners for a lazy project, scarves are meant for you. Plus, if you're looking to cover your face, why pay for a face mask when you can cover up with scarf?

Whether you're seeking a scarf that's warm or a scarf that's rich in color to act as a striking accent, the right one is out there — you just need to find it! 
 
To help get you started, we've pulled together a list of some of our favorite scarves. Below you'll find free scarf knitting patterns for every season, in colorful, lacy and unique patterns.  Discover your next favorite project, and then have fun customizing it to suit your personal taste.

There's a reason that scarves are great for beginners; they typically involve little to no increasing or decreasing, and there's no need to pay attention to things like knitting gauge (for the most part). Whether you're doing something simple like garter stitch or a more complicated lace motif, these free scarf patterns have just what you're looking for!

Sign up for our daily newsletter to receive more amazing FREE patterns delivered directly to your inbox!

Learn how to knit a scarf in no time flat with this video, then browse through the other patterns in this list:
Table of Contents
Easy Free Scarf Knitting Patterns
Just because the weather is getting warmer, doesn't mean you can't wear scarves. Check out these gorgeous free scarf patterns that are lightweight and beautiful enough to wear all year long. Nothing says summer quite like scalloped edges, ruffles, and lace! Keep your crafting obsession on a budget this summer and pick out one of these free knitting patterns for scarves as your next project.  (Psst... that way you can spend more money on yarn.) No matter your skill level, there's a scarf knitting pattern for everyone.
Lace Scarf Patterns
This collection of free scarf patterns are lovely in lace and designed to inspire.  Go grab your favorite wool skein from your yarn stash and create any one of these beauties; the free scarf knitting patterns are so visually striking, it doesn't matter what kind of yarn you use -- it'll look fantastic!
Infinity Scarf Patterns
Scarves are certainly fun projects to work on. Quick and relatively simple, you can get through any one of these free knitting patterns for scarves in almost no time at all.  If your collection of scarves is starting to take off, why not try your hand at an infinity scarf for a little variety? These patterns are a great place to start your pattern search.
Knit Cowl Patterns
These free knitted cowl patterns will add just the right touch of simple elegance to any summertime outfit. With the help of a fun yarn, these knitted cowl patterns are also fun to knit. They are easy to make and beautiful to wear! Wrap them around your neck to stay comfortable and cozy when the sun goes down and the breeze kicks in.
Your Recently Viewed Projects