18 Lace Knitting Patterns for Scarves
Check out this wonderful collection to find the perfect lace knitting patterns for any skill level.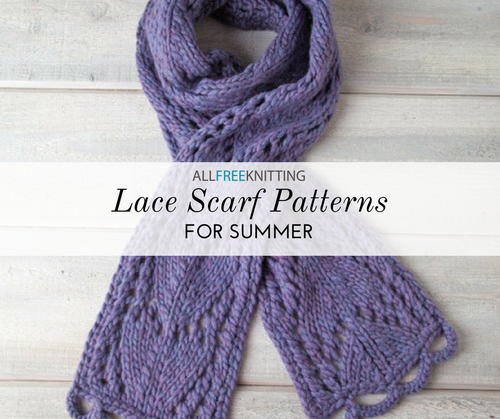 These gorgeous lace scarves are some of the most elegant projects available to knitters out there. Fine yarn and wonderfully delicate knitted scarf patterns unite to create projects that would make anyone proud. These lace scarves to knit are some of our favorite patterns, simply because knitting and wearing these easy knitting patterns is a joy.

Despite what people may tell you, lace patterns can be knit by anyone of any skill level, making this list a great place to start if you've never knit lace before, but also a wonderful collection for more experienced lace knitters. Once you've found the perfect lace knit scarf pattern for your skill level, the rest is history.

If you're looking to start knitting lace for the first time, a scarf is a great place to start because there is much less shaping to do, unlike lace shawls. These patterns will have you addicted to lace in no time. You'll not only love creating these gorgeous lacy scarves, but you'll be surprised at how quickly and easily they knit up. We have a variety of styles to try, so whether you're feminine or tomboyish, a lover of dark or light colors, you're bound to find a lace scarf pattern you enjoy.

If you're looking for a spring or summer knit project, these lace knit scarves are a fantastic project to try out.

For more great projects like this, subscribe to our free email newsletter!
Your Recently Viewed Projects