What Is Knitting Gauge?
Learning how to find your knitting gauge is easier than you might think!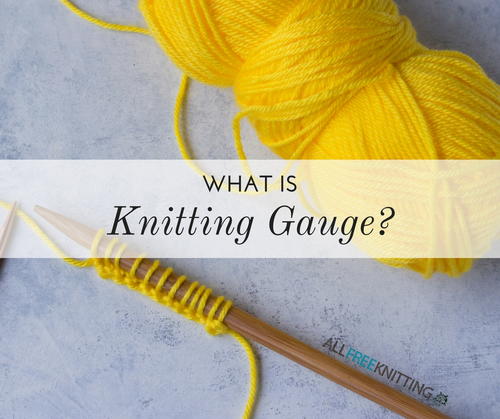 Knitting without first getting the gauge is a bit like wandering off the marked trail—you might have a good idea where you are, but there's a good chance you're going to end up lost in the woods.

You might have heard from some people that knitting gauge doesn't really matter and that you only really need to worry about it when you're doing super advanced projects.

These people are wrong.

While it's true, for some patterns the gauge isn't terribly important, for certain knitted articles of clothing, getting the correct gauge is the key to getting a good fit and a nice looking garment. If you're a beginner knitter, knowing your gauge isn't crucial all of the time because the projects you are probably starting out with aren't very dependent on having the proper gauge.

If you're knitting a scarf or shawl, on the other hand—any type of pattern where an exact fit isn't necessary—gauge acts as more of a guideline. When knitting a scarf, you can be off by a couple of stitches or so, since you're probably just going to wrap it around your neck. But if you aren't paying close attention, there's a chance you'll end up with a scarf that's giant, or worse—too small.

What makes gauge even trickier is that it's pretty much impossible to get right. Two knitters can knit the same swatch with the same yarn and same needles and get two different gauges. So don't get too discouraged if it takes a few tries to get the material just right.
What Is Knitting Gauge?
Knitting gauge is a measurement of stitches that is expressed as a ratio. It is the number of stitches needed to create a piece of fabric of a given size.

Gauge is commonly expressed in two ways—as stitches per inch and rows per inch. The gauge for a particular pattern might look like something like this:


18 stitches & 28 rows / 4 inches in Stockinette stitch, with gauge needle
The purpose of knitting gauge is to act as a sort of guideline for the project. If you want your project to perfectly replicate the sample, you will have to match the designer's recommended gauge.

A designer might recommend a certain type of yarn and needle size to go with the pattern that they have created. But you might find that in order to match the gauge required of the pattern, you might have to adjust your needle size.
When Does Gauge Matter?
Gauge becomes critical when you're knitting something with a specific size, like sweaters, hats, or a pair of socks. For items like scarves and afghans, it's not quite as important to check your gauge.

No one wants to get halfway through a sweater pattern, only to realize that it's going to look like a tent once finished. Getting the correct gauge before you cast on (however tempting it is to start knitting the actual project right away) will save you pain and tears down the road.

No Two Knitters Have Exactly the Same Gauge:
Gauge is sort of like a thumbprint, in that every knitter has a unique gauge. You're never going to be able to perfectly match the designer's gauge, and that's okay! What you do want to do is get as close as possible. There's no reason to be intimidated by gauge; once you understand gauge, you'll be in a better position to knit confidently and make deliberate design choices in relation to your yarn and pattern.

After working a few projects, it's also likely that you'll learn whether your personal gauge runs small, wide, or right in the middle. Personally, I know my knitting gauge is a little bit looser than most peoples', so I keep that in mind when I start my projects.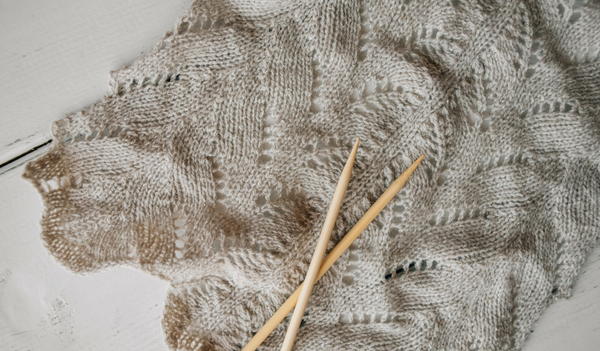 The Finer Points of Swatching
Getting the gauge is a fairly simple process, but it can require some patience.

Examine Your Pattern:
Find the designer's recommended gauge, needle size, and yarn. After purchasing your yarn of choice, you'll want to create a swatch using the needle size that you think will get you the closest to the correct gauge size.

Test and Measure:
After swatching, you will measure the text fabric to get your gauge (step-by-step instructions shown below). If your gauge matches the designer's, you're ready to go; you can cast on your project. If it isn't quite right, you will need to move up or down a needle size—depending on where your gauge measurement was in relation to the designer's—and start the swatching process over.

Try and Try Again:
The first step to getting your gauge is to make a swatch. There are three basic rules of swatch knitting:
Always use the same needles you will use in your knitting.
You must treat your swatch the same way that you plan on treating your finished project.  
You must be able to get a good 4" x 4" measurement within the swatch.
The first two rules are closely related, but it's worth making a distinction between them, if only to emphasize the number of factors that go into knitting a swatch. Creating a swatch with the same size of needles in metal and bamboo could easily yield a slightly different gauge measurement. And switching needle materials between swatching and knitting is just asking for trouble.

Your Swatch Is a Crash Test Dummy:
Knitting a swatch allows you to get an idea of how your project is going to turn out, without forcing you to go through the trouble of knitting an entire sweater.

It's important to treat your swatch the same way that you will treat your finished project because the gauge can change based on how you block or store your garment. Wet blocking your finished project will cause the stitches to relax, resulting in a different gauge than your knitting gauge. To get the correct gauge for your final product, you should fully knit and block a swatch.

In General, a Bigger Gauge is Safer than a Smaller Gauge:
Many gauges are now written as a 4" x 4" square, so your swatch should be a little larger than that size. The ideal swatch is typically a 6" x 6" square, though it's okay if your swatch is a little larger or smaller. As you may have noticed, the edges of knitting can pucker or curl. Since you don't want to include the unreliable edges in your gauge measurement, your swatch should always be larger than your gauge measurement by a couple of inches on either side.
How to Measure Gauge
Let's say that you've created your first swatch of your project.

Step One:
Measure. Lay the swatch on a flat, well lit surface. Place a hard ruler underneath a row of stitches.

Step Two:
You will want the Stockinette stitch side facing up. Start counting; one stitch in Stockinette is one whole V. It's easiest to count by pointing a knitting needle or pencil at each stitch as I go.
Note: Try to make sure that the swatch does not move around while you're counting. If it does, you may end up counting some stitches more than once.

Step Three:
After you've counted 4" worth of stitches, you will want to do the same for the rows. Make sure you write the numbers down right away.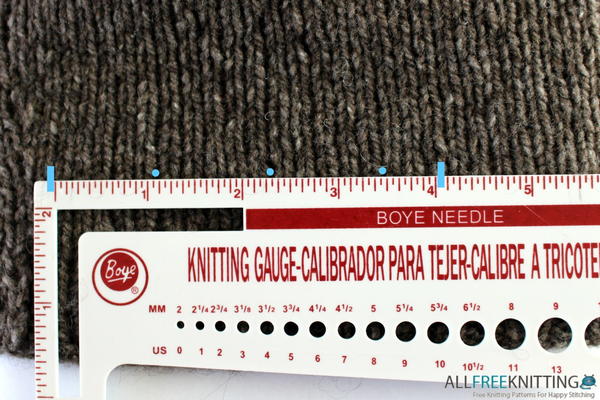 This example swatch has 18 stitches per 4 inches. We've placed a blue dot after counting off 5 stitches, and you can see there are a few extra stitches at the end.

Step Five:
Take the number of stitches and divide by the number of inches. In this case, it's 18 divided by 4, which gives you 4.5. This should give you the metric size of the recommended knitting needle.
Note: If you aren't sure what the metric size is for the knitting needle you're using or the project doesn't say, check out this handly knitting needle conversion chart.
What to Do If Your Gauge Is Off
Don't panic! Your project will be just fine. However, fixing your gauge is easier said than done, and there usually isn't one right way to fix it, and it will pretty much always involve redoing the swatch and trying a different size of knitting needles.

Let's examine an example gauge more closely with a couple of different scenarios.

Example:


Gauge: 18 stitches & 28 rows / 4 inches in Stockinette stitch, with gauge needle
Suggested needle size: US 7/4.5 mm
Situation 1: You Have Too Many Stitches Per Inch
After knitting a swatch, you find that your gauge actually measures 19 stitches & 30 rows / 4 inches, in Stockinette stitch. Since there are too many stitches and rows per inch in this example, but not by a lot, you will want to go with one needle size larger—US 8/5 mm needle, in this case—and create a new swatch to correct the gauge.

Situation 2: You Have Too Few Stitches Per Inch
Your test swatch is 11 stitches & 21 rows / 4 inches, in Stockinette stitch. This test gauge is far too small. Knitters who find themselves in this predicament should try going a couple needle sizes smaller, like a US 5/ 3.75 mm needle, when creating the next swatch. The smaller needle will create more stitches per inch, resulting in a gauge closer to the one the designer intended.

Do I Have to Re-Swatch With the New Needle Size?
Yes. After getting an initial reading on a gauge, it's tempting to guestimate and cast on with the next needle size up or down. You should avoid doing this at all costs. You should always swatch with the needles you are going to use in your final project. If you re-swatch with different needles, you might find that the new needles still didn't do the trick! Re-swatching can become frustrating, but it's better than having a lop-sided piece of fabric.

Sometimes the knitting needle size alone is not what's causing the issue with the gauge. Other factors like the knitting needle material, the yarn weight, and even just the way your hands knit can have an impact on the number of stitches per inch. There isn't always one right way to fix gauge.

What Happens If I Just Can't Get the Gauge Right?
There is also the possibility that, no matter what size of needle you use, you won't be able to match the designer's gauge exactly. This is another area where swatch knitting shines; knowing how your gauge differs from the designer's will allow you to compensate for those differences in the pattern itself.

For example, if you know that your stitch gauge matches, but your row gauge is a little short, you can be sure to knit a couple of extra rounds to compensate for this difference. 

Remember: You Are In Control Of Your Knitting.
You can adjust your project in response to problems you perceive while knitting. It is okay to add or subtract rows or stitches if it will make your final project better in the end. Indeed, you may want to totally depart from the gauge listed on the yarn label or pattern.

Perhaps you want to go for a more drapey look with your newest yarn, in which case you'll want a much looser gauge. Knitting as a craft is fluid, and understanding gauge can give you the tools you need to make conscious departures from a pattern to get amazing results.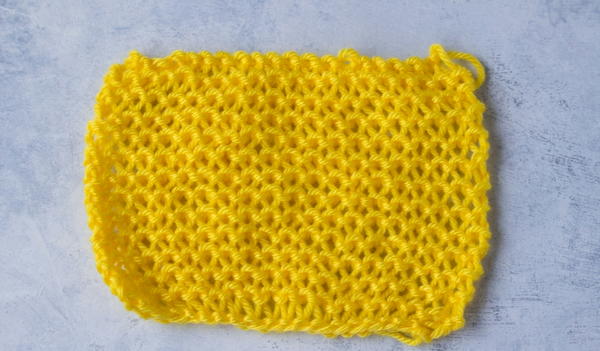 More Resources for Checking Gauge
Your Recently Viewed Projects