6 Types of Knitting Decreases
From the k2tog to the SK2P, these knit decrease stitches are just what you need for your next project!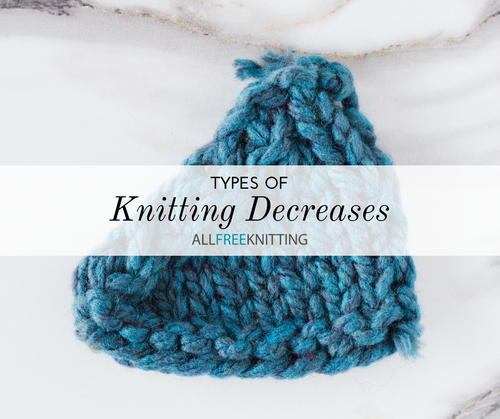 Whether you're knitting somethign advanced like a sweater or a shawl or something a little simpler like a hat or some socks, if you're knitting, you'll probably have to know how to decrease at some point. Decreasing and increasing in knitting simply refer to different techniques for changing the number of stitches in a row.

While there are tons of different types of decreases in knitting, the six different decreases below are the ones that you'll most likely encounter.

Some older knitting patterns will tell you to "decrease evenly" a certain number of stitches across a row but won't specify where those decreases go or which decrease to do. If you come across that in a pattern, it's good to know what your options are. Some decreases are discreet and almost invisible while others are more decorative. Do you need a single or double decrease? Should your decrease lean to the left or right?

Pro Tip:
To determine if a decrease stitch is left-leaning or right-leaning, all you have to do is look at the direction that your working needle is pointing when you start working that stitch.

For example, with the k2tog decrease, your working needle should be pointing to the right of your work; that indicates that the decreased stitch will appear on the right of the stitch used to create the decrease. The opposite is true for left-leaning increases like the SSK.

For more great projects like this, subscribe to our free email newsletter!
Your Recently Viewed Projects