50+ Infinity Scarf Patterns You'll Love
Regardless of your skill level, if you want to learn how to knit an infinity scarf, you've come to the right place.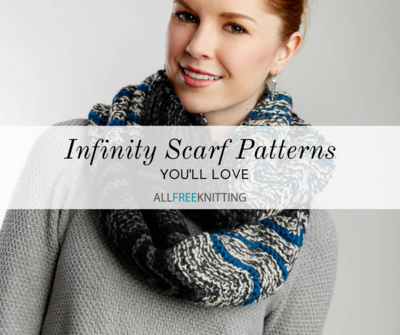 No matter what the season, infinity scarves are one of the simplest ways to add a touch of style to your outfit.  That and they're also incredibly addicting to knit!  Depending on the weight of yarn your infinity scarf calls for, you can make your circle scarf suitable for sunny days, snowy days and everything in between. 

Given their versatility, I guarantee at least one infinity scarf will become a welcomed addition to your wardrobe — starting today.  Infinity scarves, which are just scarves with both ends sewn to one another to create a long loop, are excellent channels for practicing and experimenting with new stitches. 

Sign Up for More Free Knitting Patterns

PLUS! Learn how to turn any scarf into an infinity scarf by seaming! Just watch the easy-to-follow video below.
Table of Contents
Colorful Spring Infinity Scarves
Brighten up your collection of spring clothes with these light, lacy and colorful designs for circle scarves.  If you're wavering between two yarn choices, just look to nature for some inspiration — new flowers are budding and blooming into life every day during this season that's centered on regrowth. 

Once you've settled on a pattern and a yarn, just pair any of these spring knitted cowls with a flowy top and jeans to create a winning combination that's perfect for all your weekend endeavors — or for a drafty day at the office.  My personal favorite is the Cool Breeze Infinity Cowl; this scarf pattern has a basic design that provides an exceptional backdrop for bolder yarn colors.
If you're looking for some super simple beginning knitting patterns, check out this collection and tell us which of these free knitting patterns is your favorite in the comments:
Fashionable Fall Knit Circle Scarf Patterns
While it's easy to get swept up in the beautiful hues that autumn brings, let's not forget that the weather is also chilly.  Bundle up in style with these classic patterns that are ideal for a fall climate. 

Beginner knitters can put their skills to the test with the straightforward Cozy Autumn Cowl; while more experienced knitters can build upon existing talents with the attractive Lavender Magic Scarf, which boasts large, twisted cables.

When it comes to knitting, the possibilities are simply endless.  Browse these great ideas, find the style that speaks to you, and get to work.  You will have a beautiful addition to your knitted infinity scarf collection in no time.
How to Knit an Infinity Scarf for Winter
When the weather is particularly brutal, it's best to select a chunky circle scarf that can be looped around the neck multiple times to create a dense layer of warmth.  Did I mention that because these patterns require thicker yarn, you'll be able to whip up multiple circle scarves in a matter of hours?  Select your favorite yarn this weekend, sit down with one of these patterns, start knitting and watch as your new accessory begins to come to life right before your eyes. 

Now, there are many insulating patterns out there, but if you're having trouble choosing which one to knit first, know that you can't go wrong with any of these fabulous projects below.  Each one, with its unique charm and soft textures, is essential for colder seasons.
Your Recently Viewed Projects