What is the Best Yarn for Baby Hats?
The criteria for the best yarn for knitting baby hats is quite the list, and we'll share it with you.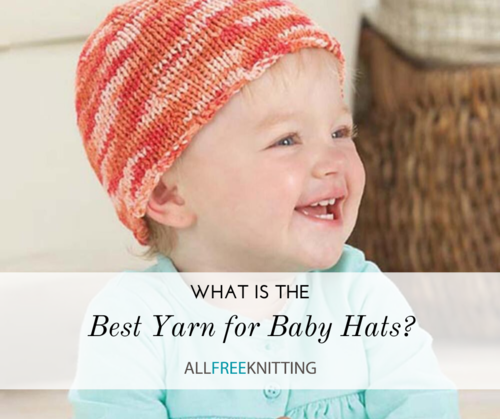 It's easy to fall victim to the amazing prices of closeout yarn and end up with five or six skeins from baby yarn brands, specifically labeled for use on baby knits. While it's sometimes safe to trust the manufacturer and knit up some cute baby accessories with this yarn, this isn't always the case. The importance of checking a yarn label and familiarizing yourself with the various types of fiber options, along with their advantages and disadvantages, cannot be overstated. The best yarn for baby hats is soft, washable, warm, and breathable all at once. That said, where do you even begin to find the best baby knitting yarn?

Sign up for our free email newsletter for more amazing patterns!
Fiber
Most big box store yarn you find with an adorable little baby on the skein sleeve is going to be acrylic baby yarn. Any yarn that's 100% acrylic should be cheaper than the rest (which is always a big plus, seeing as how babies grow like weeds and it's not worth the money to knit them anything fancy), but there are two major downsides to acrylic yarn. Firstly, acrylic yarn is not very breathable. Fussy babies are unlikely to enjoy how sweaty and sticky they may find themselves in acrylic yarn, which may lead to more crying sessions, and that's the last thing Mom wants. Secondly, the variation in acrylics is so wild that two 100% acrylic yarns could feel totally different, with one feeling scratchy and cheap and the other feeling as smooth as silk.

That said, there's no beating the washability of acrylic yarn paired with the cheapness, so we have to recommend an acrylic blend. Something combined with at least 10% natural fiber (wool, alpaca, cotton, etc.) to help offset the lack of breathability and imbue some of the positive properties of the other fiber types is recommended. While 100% acrylic yarn isn't necessarily the best yarn for baby hats, if you're on a very tight budget and it's all you can afford, just make sure you have the chance to feel it in-person to make sure it's buttery soft.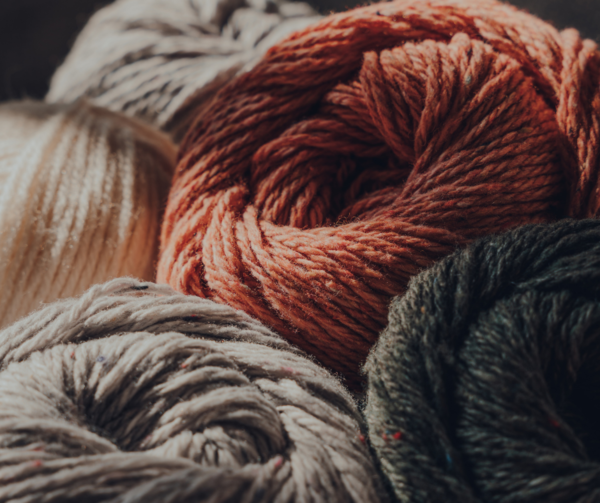 My personal go-to yarn for just about anything wearable is superwash wool. The wool must be treated to be "superwash" for two reasons: first of all, it helps make the yarn softer and less itchy, but secondly and most importantly, it makes it machine-washable. A good place to look for superwash wool would be in sock yarn, where some blend of superwash wool and nylon (for stretchiness and durability) is very popular. When it comes to the type of superwash wool, you're going to get the softest yarn when it's made of alpaca, merino, or lambswool, in my personal experience. If you can find yourself something that's at least a blend of merino, lambswool, or alpaca for a good price, jump on it ASAP. For those of you who are worried about the baby being allergic to wool, be reassured by the study "Debunking the Myth of Wool Allergy: Reviewing the Evidence for Immune and Non-immune Cutaneous Reactions" by Zallmann et al which states in its abstract "Current evidence does not suggest that wool-fibre is a cutaneous allergen."

What if you don't want to take any risks with wool allergies and would rather stick to a non-wool fiber? Certainly while perusing yarn aisles you've, at some point, come upon 100% cotton baby yarn. While cotton isn't very stretchy, when made to the size of the baby's head, what's the problem? Cotton is both washable and breathable, which already puts it leagues ahead of acrylic. The problem, such as with acrylic, is that the softness of the yarn is very variable. See the yarn in person, and feel the yarn against the underside of your forearm (like a freak) rather than with your fingertips, as the skin there is more sensitive. Be critical; if the yarn is even a little scratchy, find another. When cotton yarn is paired with a little bit of manmade fiber, bamboo, or silk, it's more likely to be soft. If you can find yourself a super soft skein of cotton yarn, it's a good fit. Just be aware that it will not be as warm as something made from animal fibers, as cotton is typically a warm-weather fiber.
My personal favorite plant-based yarn is bamboo, and I happen to think it's a great option for baby hats! Check out what else you can make with it here: 24 Bamboo Yarn Patterns to Knit
Weight
This is where it gets so much easier: buy the yarn weight of whatever pattern you're following, silly! If the pattern calls for weight 2 category yarn, check the yarn label and make sure you've got the correct weight and can achieve the correct gauge, or else your hat will not end up the same size as the one you're trying to knit.

Say you're an advanced enough knitter that you plan on making up the pattern as you go along, or you have the rough recipe for a pattern which includes checking your gauge, so you can pick whatever yarn weight you would like. In this case, you have loads of options. Personally, I would recommend anything from weight 1 (fingering) to weight 4 (worsted). You can absolutely knit a baby hat on chunkier yarn, but you won't have a lot of space to work with, so a simpler design works better in that case.

The most common weight of baby yarn is definitely weight 3, or DK weight yarn. This weight (and sometimes weight 2, sport weight yarn) is even commonly referred to as baby weight yarn. Slightly thinner than worsted, fans of weight 4 yarn will enjoy working with this, but don't believe that it's impossible to knit a proper baby hat with any other weight of yarn.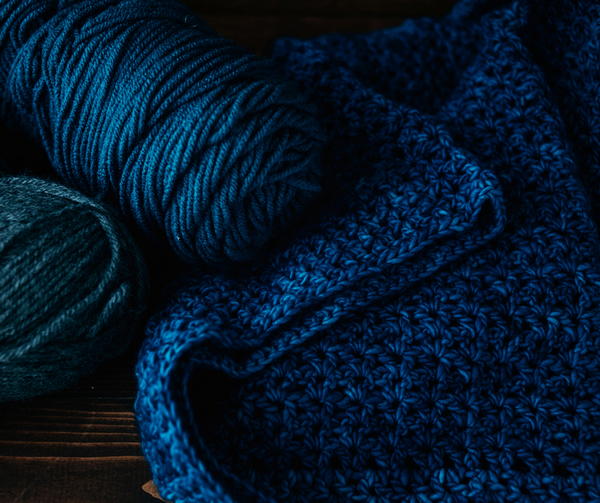 The Best Yarn for Baby Hats: 5 Suggestions
As you  might have guessed already, there are many options for great yarn for baby garments, so the world truly is your oyster. That said, we review a lot of yarn here on AllFreeKnitting, so we've been lucky enough to experience yarn specifically meant for babies, and the following are some of our favorites. If you're having a hard time deciding on the best yarn to purchase for your next baby project, we couldn't recommend these yarn lines more.
Debbie Bliss Baby Cashmerino Yarn
We're starting off with a truly luxurious yarn. This yarn is 55% wool, 33% acrylic and 12% cashmere (yes, cashmere!) and it's machine washable. We love to start off strong, here! As long as the baby you're knitting for doesn't have any wool allergies, if you're trying to knit her something unbelievably cozy and comfy, this is your yarn.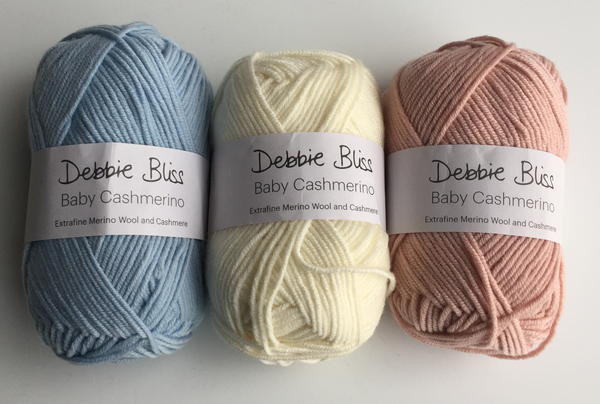 Superwash Dewy DK Yarn
Another high-end yarn for the little one is this Superwash Dewy DK Yarn. Made of 70% superwash merino wool, 20% nylon and 10% silk, you're getting all the luxury of a high-quality sock yarn, but in the ever-popular-for-baby-knits DK weight. Expression Fiber Arts colorways are always absolutely breathtaking, so this is a yarn you'll be able to get really fun with.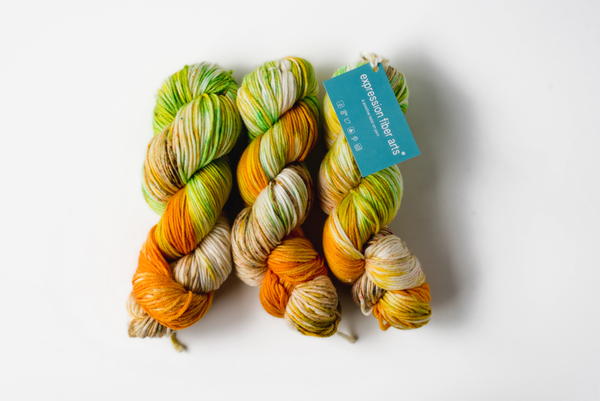 Cotton Fine Yarn
Brown Sheep really has the habit of making some amazing yarns. For all of the breathability and washability of cotton and the warmth of wool, this yarn is your best bet. We recommend this yarn for knitting baby hats because babies often need to wear hats even in the slightly warmer months, so this should keep their little heads cozy (but not suffocated) all day.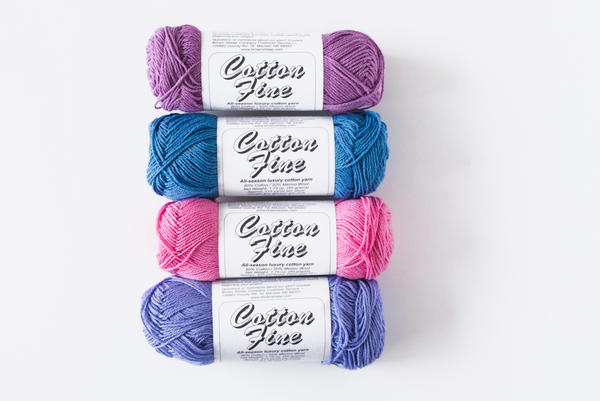 Deborah Norville Everyday Yarn
On the other end of the spectrum is this widely-available, insanely affordable, and yet still super high-quality Deborah Norville Everyday Yarn. This 100% acrylic yarn is perfectly safe for babies, and an amazing budget option if you don't have wads of cash to throw at your knitting projects. This workhorse yarn is my favorite low-cost yarn for its buttery-soft feel and huge array of shades.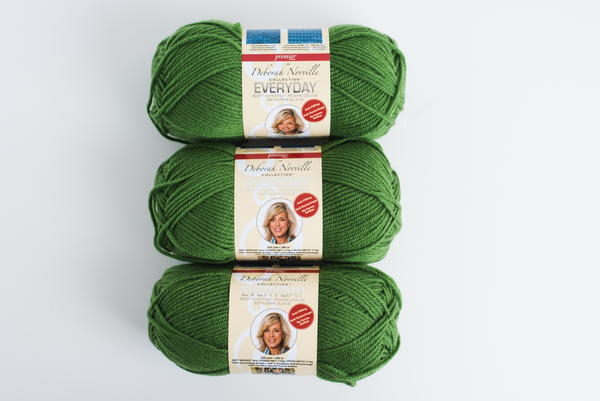 Paintbox Yarns Baby DK Yarn
If you want something a little more middle-of-the-road in terms of yarn content, this 55% nylon and 45% acrylic blend is a fantastic option that's still very affordable. The best yarn for baby hats is, after all, the one that can be washed and reused time and time again, and that's what you'll get with this sturdy yarn. Plus, the stretchiness certainly adds to the comfort, and the DK weight means you can easily manage a bunch of cute baby hat patterns.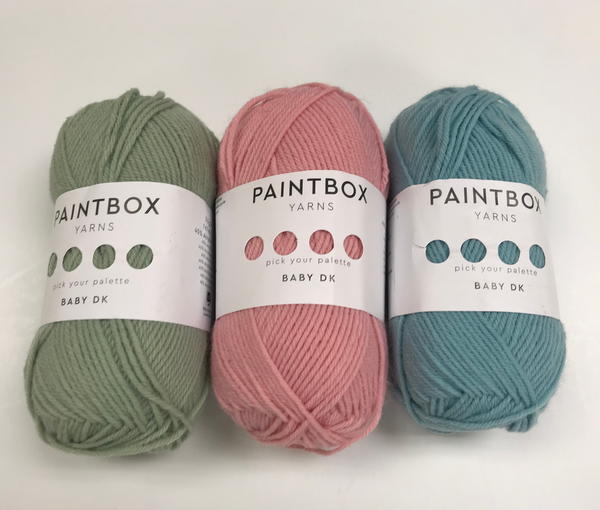 6 Adorable Baby Hat Knitting Patterns
If you're looking for some examples to get started, look no further: I've gathered some of my favorite free baby hat patterns here on AllFreeKnitting and examined the suggested yarn for each.
Baby Archie Bear Hat
This baby hat calls for the Lion Brand Touch of Merino yarn, which is a DK weight yarn made up of 90% acrylic and 10% merino, which you'll remember from the section on fiber above is incredibly soft. The pattern calls for just one skein of this yarn so, despite the inclusion of a luxury fiber, you can knit this hat for under $10.

Get the Pattern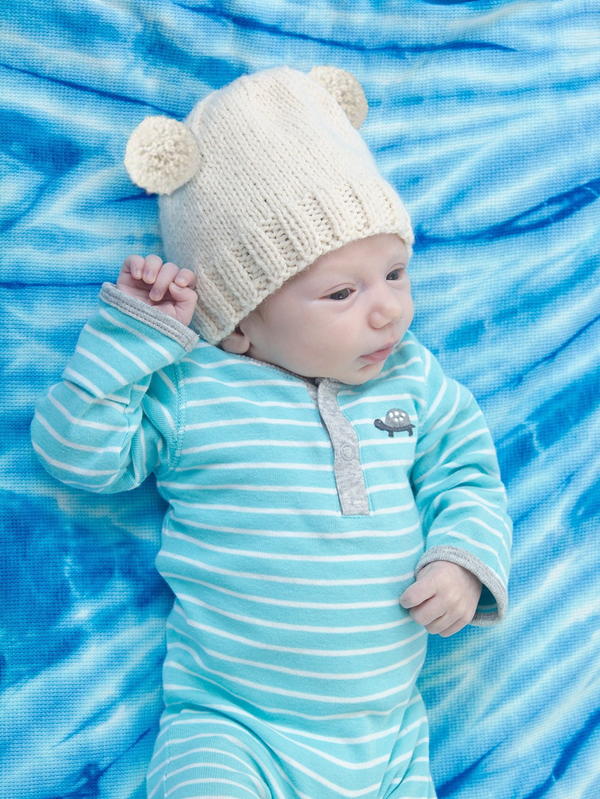 Lacy Leaves Baby Hat
It just doesn't get much cuter than this! This pattern calls for about one skein of "premium acrylic" sport yarn. The designer here is balancing affordability with softness, and offsetting the stuffiness of acrylic with a more openly-designed hat for breathability.

Get the Pattern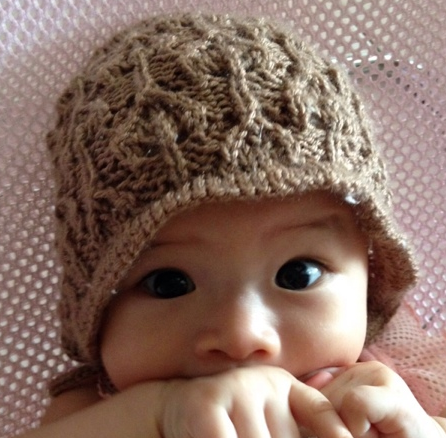 Wandering Clouds Baby Knit Hat
This easy pattern calls for a single ball of DK-weight yarn in a cotton and nylon blend, meaning this hat is both stretchy and breathable, which the baby will love. In addition, both of these fibers are washable, so when the baby inevitably gets into something messy, it's easy enough to clean.

Get the Pattern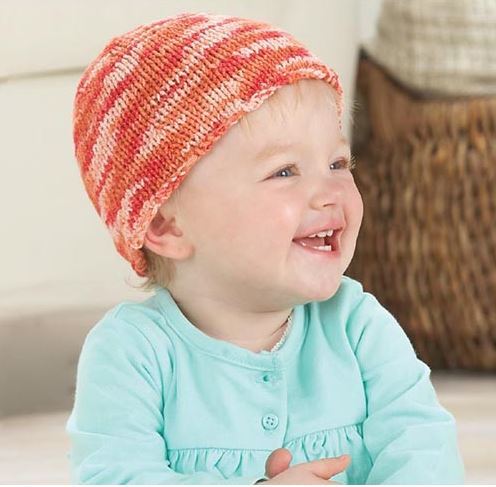 Serendipity Baby Hat
The 100% superwash merino yarn that this hat calls for is perfect in terms of fiber. Though this is a sport weight yarn, the designer instructs to hold the yarn double throughout, which will make for a thicker yarn, but the simple design of the hat makes the chunkier yarn easy to work with. Plus, you just can't beat that color.

Get the Pattern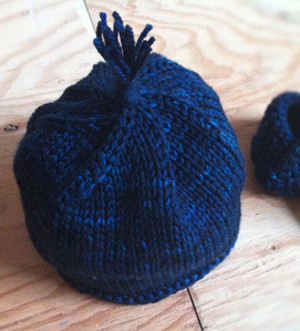 Ridiculously Easy Hyacinth Baby Hat
The yarn used in this pattern is a blend of cotton and bamboo-derived rayon, so once again you end up with a washable, breathable baby hat (that's ridiculously cute, to boot). It's a DK weight yarn, so the weight is also on-point.

Get the Pattern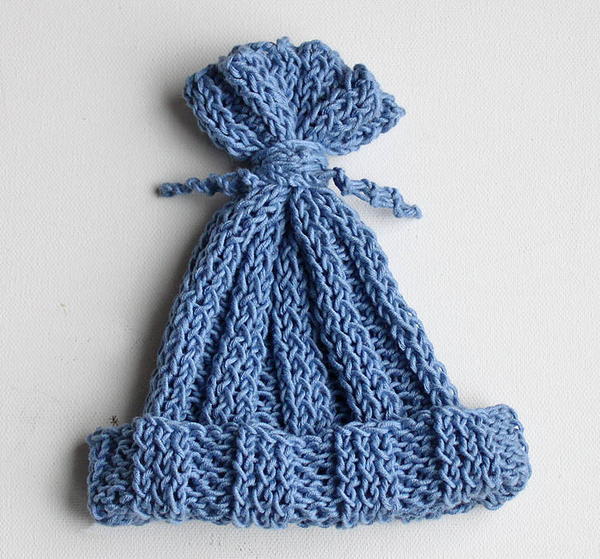 Ocean Top Knitted Baby Hat
Okay, yes, maybe I just really like the double-pom-pom look, but the yarn used here is a worsted weight blend of wool, acrylic, and bamboo, giving it truly the best of all worlds: the affordability and washability of acrylic, the warmth and coziness of wool, and the breathability and washability of bamboo. It doesn't get better than that.

Get the Pattern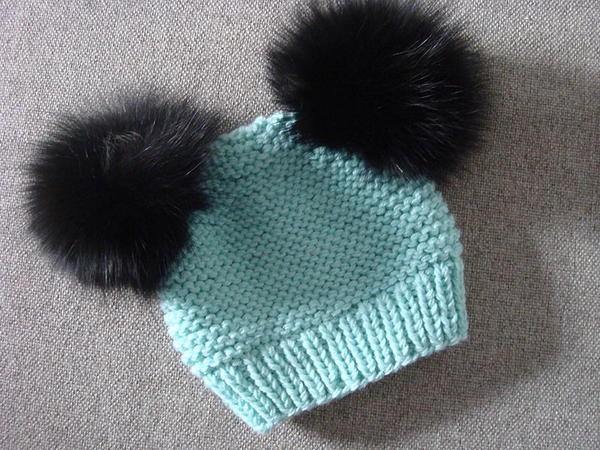 Free projects, giveaways, exclusive partner offers, and more straight to your inbox!
Tags / Related Topics
Your Recently Viewed Projects
Images from other crafters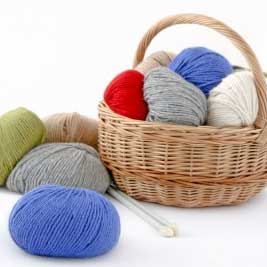 Something worth saving?
SAVE all your favorite patterns
ADD personal notes
QUICKLY reference your patterns