Can Crochet Patterns Be Converted to Knitting?
Converting crochet to knitting can be done with some planning and precision.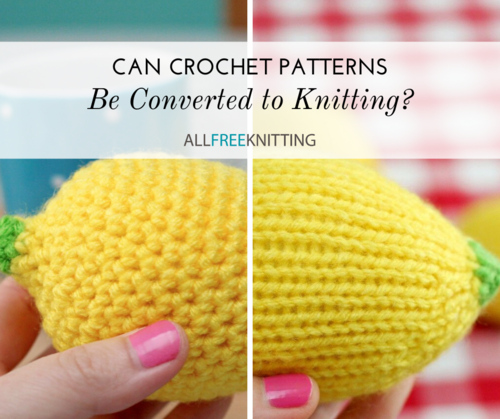 You've found a perfect pattern, great! But, oh no, it's crochet and you only knit. So, can crochet patterns be converted to knitting?

The short answer is yes, although there aren't many resources available. By contrast, several books and websites cover conversion in the opposite direction (knitting to crochet). Either way, the principles are the same:

1) The stitch gauge of your knitted version must match that of the original piece in order for your project to be the correct size. More on that below.

2) Your adaptation will not look nor feel exactly like the original, because hooks and needles produce different fabrics. Think of crochet and knitting as two different "languages". Since a direct translation is not possible for every technique, the project you make will be an interpretation rather than a copy.

Before I continue, I must ask: What is your reason for attempting this conversion? Did you try searching for a knitted counterpart of this item but found nothing workable? Very well, then let's say that this crocheted item is unique, and there is no knitted version of it already out there. Here are the requirements for a successful conversion:

For more great projects like this, subscribe to our free email newsletter!
Match Crochet and Knit Gauge
Achieving the same stitch gauge as the original is critical, first and foremost. Row gauge is important too, but knit and purl stitches are shorter than most crochet stitches, so you almost certainly will need to knit more rows than specified in the crochet pattern in order to reach the right length.

I wish I could tell you, for example, that "4 rows of double crochet equal 8 rows of stockinette" but everyone works a little differently, and yarns and tools vary too much. Rely on your swatches and on the pattern's schematic and finished measurements for best outcome.
Make Swatches
To match gauge, you (absolutely, positively) must make test swatches, preferably in both crochet and knitting, but if you don't crochet, that's OK. Make your swatches big -- at least 6 inches square -- and be ruthlessly honest with yourself when measuring stitches per inch.

Start with the stitch pattern you hope to use for the project (garter, stockinette, seed, etc.). If you don't like the way it looks or feels (even if the gauge matches), try different needle sizes, stitch patterns, and/or yarns until you create a swatch that you like.

Tip: You may need a yarn heavier than was used for the original, since knitted fabric is typically thinner than crocheted. Some manufacturers make multiple weights of the same yarn -- convenient for this purpose.
Determine Substitutions
The next step is to determine comparable terms and methods. Read through the whole pattern, making substitutions as you go. Here are some examples:


Crocheting

--------

Knitting

--------

foundation chain
cast on row
sc 2 into 1 st
kfb
sc2tog
k2tog
sc into each sc across
k all sts
fasten off
bind off
So, looking at the second row, if the crochet pattern states, sc 2 into 1 st, which means to single crochet 2 into the first stitch, the knitting version would be kfb, which means to knit into front and back of the same stitch.

These conversions will work for many types of construction, including projects worked in the round, ripples, modular squares, flat circles, and lace. You can even convert features such as picot stitches, bobbles, and simple cables!  But remember that not everything translates.

To avoid confusion, place stitch dictionaries with good photos side by side. For instance, if you look up the crochet seed stitch (shown in the image below on the left) and knitted seed stitch (shown in the image below on the right), you'll see that they are completely different creatures and not interchangeable.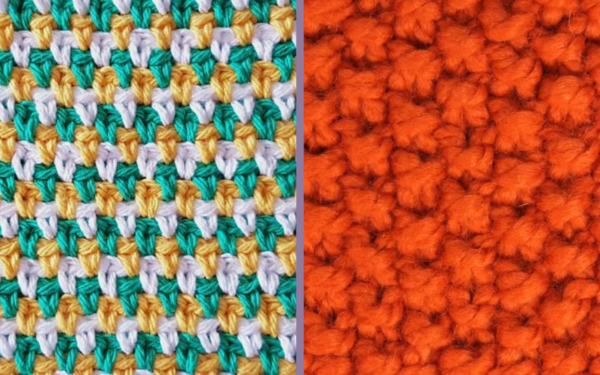 Here's another one: the crochet bobble stitch (shown in the image below on the left) and the knit bobble stitch (shown in the image below on the right). These are more similar but still not close enough to be able to easily switch.
Try swatching some alternatives and use your best judgment in situations like this.
Get Started Converting Crochet to Knitting
The fact that you are interested in converting a published design from one needlework genre to another suggests that you are adventurous and persistent, and can see things from multiple perspectives. These are the same traits you will need to successfully convert a pattern from crochet to knitting. You can do this. And best of luck!
BONUS! Lemon Stress Ball Patterns
Here's a pattern that's available in both crochet and knitting. Before converting a pattern from scratch, it might be a good idea to look at these two patterns and compare them.

Crochet Lemon Stress Ball Pattern (shown in the image below on the left)

Knit Lemon Stress Ball Pattern (shown in the image below on the right)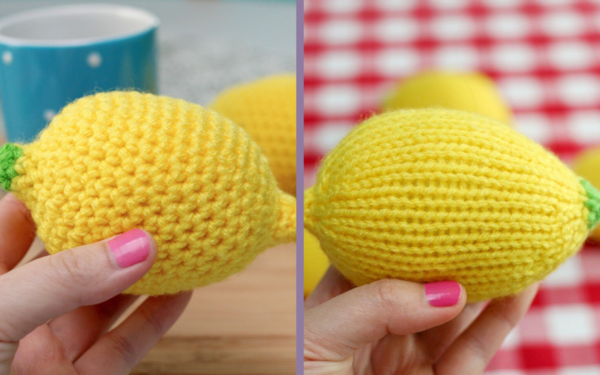 What crochet pattern are you dying to convert to knitting?
Your Recently Viewed Projects