Yarn Color Combinations
These pretty yarn color combinations will have you eager to knit your next project!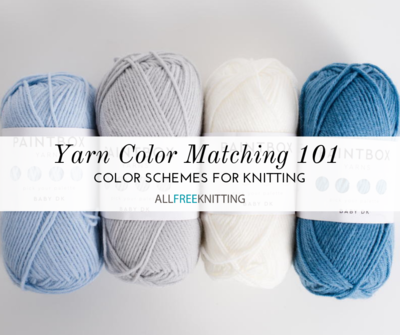 So often, we find ourselves so bogged-down with the technical aspects of knitting, such as the right way to slip your stitches or the best stitch patterns to combat stockinette curling, that we forget one of the best parts about knitting: it truly is an art form! The artistry of knitting is what got many of us into the craft, so it's unfortunate when we find ourselves unable to enjoy the little things about it, such as the beauty of a delicate lace stitch, the coziness of a cable, or the feeling of satisfaction that comes from a pretty color combination.

Color theory is a pervasive lesson among many artistic crafts. Makeup artists expertly choose eyeshadow and lipstick colors based on the minute undertones of their client's skin and eye colors, painters pore over the exact drops of one oil paint necessary to mix into another color, and yes, even yarn dyers play with the ratios of certain natural and synthetic dyes in order to create lovely colorways for the very yarn we use to knit.

That said, the artistry isn't fully in the yarn dyers' hands! You still get to choose exactly which color combinations you would like for your colorwork projects, or even just your coordinating sets. Learn a little bit about color theory below, and then we'll get to some pretty and trendy color combinations for the upcoming new year for you to try out, too.

For more great projects like this, subscribe to our free email newsletter!
Table of Contents
Your Recently Viewed Projects