14 Unique Knitting Stitches for Beginners
These knit stitches for beginners will ACTUALLY catch your attention.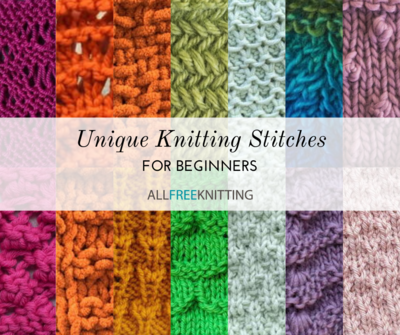 When you've just begun knitting, it can often feel like you're tied down to the same simple knit-and-purl stitches you've seen everywhere. From garter stitch to seed stitch, all of those basic types of knitting stitches are pretty and useful, but they don't really help your work stand out. It may surprise you to learn there are a bunch of unique knitting stitches for beginners that require no more than a few simple increases, decreases, and slipped stitches. Some are even just as easy as seed stitch!

Since yarn is a precious commodity and it's easy to make mistakes as a beginner, I definitely recommend trying out any of these knit stitches for beginners as a swatch first, before deciding whether or not to make them into a scarf or a blanket. You may even begin to collect all of your little swatches and sew them together to make a blanket! Enjoy the process of learning these unique knitting stitches and let us know in the comments down below which stitch was your favorite.

Sign up for our free email newsletter for more amazing patterns & tutorials!
Your Recently Viewed Projects